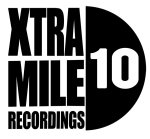 As part of their on going 10th Anniversary celebrations, Xtra Mile Records have announced plans for a 7" single series taking place throughout October.
The limited edition split seven-inch vinyl series will include material from Chris T-T, Larry and His Flask, Beans On Toast, To Kill A King, Crazy Arm, Jim Lockey & The Solemn Sun and Mongol Horde.
The first vinyl comes with an artworked box to house them all. If fans collect all four, they will be given a download code to access 10 additional tracks for free.
October
7th – Chris T-T 'The Bear' / To Kill A King 'Rays'
14th – Larry and His Flask 'The Battle For Clear Sight' / Beans On Toast 'Deadline'
21st – Jim Lockey & The Solemn Sun 'Wilderness Of A Wild Youth' / Crazy Arm 'Remembrance'
28th – Mongol Horde 'How The Communists Ruined Christmas' / Very Special Guest