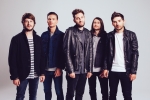 Due to public demand, You Me At Six and Banquet Records have announced a second acoustic at McClusky's in Kingston on Sunday 26th January.
The show will take place at 1pm and tickets can be purchased here.
In related news, You Me At Six have signed a US deal with Prospect Park Records for the release of their new album.
You Me At Six's new album, 'Cavalier Youth' will be released in the UK on 27th January.