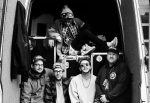 Your Demise have announced plans to release a feature length documentary. The film will be produced by Crashburn Media and will be filmed during the bands final six months on tour. The DVD is set to be released in Spring 2014.
Your Demise's Stu Paice made the following comment:
"We want to show the laughs and the hardships – believe me, there has been lots of both – and basically just to be able to finally tell everyone actually the way it is: no bullshit, just us. I think people will be shocked to see how it actually is, whether that be from us telling them about our past, or the way we see this Industry, and how it can destroy a band. We have always done things our way, and now we will go out our way.
This DVD will also show you the real emotion we are going to be going through as a band, as five friends that are in theory starting to mourn their loss," continues the guitarist; "I'm not really sure how we are going to be… I think there will be tears, but that's what we want, we want it to be real."
March
Tues 11 Joiners, Southampton (sold out)
Wed 12 Cathouse, Glasgow
Thurs 13 NQ Live, Manchester
Fri 14 Underworld, London (sold out)
Fri 14 Underworld, London (sold out)