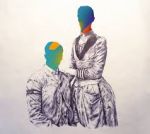 Those of you reading this review (yep, all 6 of you) will probably already be aware of the backstory of Algiers, but for those who spent the mid-to-late 2000s having a life outside of internet messageboards and gig-attending, you may not be so au fait. Algiers are a two-piece, who consist of William Anderson, formerly found providing vocals for Smoggy math-rockers DARTZ!, and John Goodwin, who once could be found behind the kit for Manchester-based indie/emo band The Maple State. However, the gentlemen have diversified from the efforts of their former charges, taking on a more pan-Atlantic sound as opposed to a uniquely British one displayed in aforementioned past guises. Following on from 2011's initiative EP 'Four Priests' (hardly the most productive bunch, are they?), the duo release debut 'You're The Captain' on prestigious indie label Xtra Mile. While Algiers' first full-length offering will probably sate the few who anticipated this record because of previous associations, it fails to bring anything new to the proverbial table, and while wistful nostalgia continues to be all the rage in alternative scenes, this seems to be an album haplessly mired in the past.
On Tellison's last album 'The Wages Of Fear', they took the blueprint laid down by Death Cab For Cutie's 'Transatlanticism' and brought it successfully into the modern era, creating their best record in the process. However, Algiers attempting the same feat here feels like the Aesopian napping hare, striving to catch up with peers that crossed the finish line years ago. Opening track and lead-off single 'Mother' is an easily digestible listen, but it never goes anywhere, never really does anything; it simultaneously exposes the strengths and weaknesses of a two-piece, as while the consistent parts may be working in absolute harmony with one another, the sound is frustratingly willowy and lacking in punch. 'Miles And Miles Of Rosary Beads' is a slight improvement on its forebear, but due to the well-covered nature of the ground it treads, it is regrettably an eminently forgettable number.
While DARTZ! were hardly hailed for their ingenious lyrical turns, some of the verbal content is as pedestrian as the music it overlays – see "I've not been travelling, I've only been on several holidays, once to the United States" from 'Indian Sweets' for such an example. After a disappointing beginning to proceedings, it fails to get much better from there; while the bubbly (not in a rotund-girl-on-a-dating-website sense) 'Lighthouse' does make a valiant salvo to rouse up some interest, subsequent tracks 'Flowers' and 'Two Currents Of Sea Drifts' saps it away with their dreary and soporific trudge. As for the finishing couplet, last track 'To The Beat Of A Marching Drum Part 2; On Resistance And Appeal: Our Wanderer Finds Refuge, Instigating Lament' is nothing if not helpful to critics attempting to fulfill a word count, so cheers for that, Algiers.
Lovable nerd Seth Cohen of teen drama The OC's favourite band were Death Cab for Cutie, but even he might find this harder to stomach than a Ryan/Marissa/*insert troubled dude with dreamy eyes here* love triangle. DARTZ! and The Maple State were enjoyable acts because of their contemporary surroundings, but 'You're The Captain' feels archaic and defunct in 2014, an aspect that (arguably) seems to be a common theme amongst Xtra Mile bands. There are many bands that make the best of their lack of members, but Algiers unfortunately cannot be counted amongst them – unlike Batman and Robin, this duo shows little in the way of dynamism. I feel sure Seth Cohen definitely would've liked a comic book reference more than this fairly mediocre offering.
2.5/5
'You're the Captain' by Algiers is out now on Xtra Mile Recordings.
Algiers links: Facebook|Bandcamp|Twitter
Words by Ollie Connors (@olliexcore)