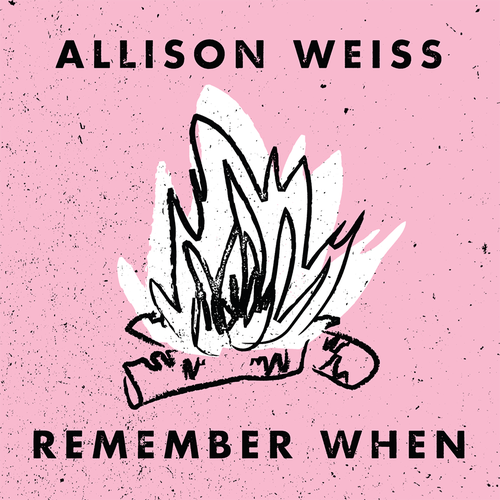 Releasing her new EP 'Remember When', artist Allison Weiss channels her thoughts and feelings of love, nostalgia and growing up into a very emotionally driven release. Writing songs in the vein of artists like Tegan & Sara and Now, Now, with even a Robyn cover thrown into the mix, Allison Weiss incorporates a blend of acoustic indie rock soaked in synth-driven power pop for a catchy, enjoyable listen.
Title track 'Remember When' sets the EP off to a strong start. Exploring past romances, Weiss mixes fast-paced drumming and layered vocals, to tell the tale of her experiences and how it still affects her to this day. What really hits home however, is the use of synth. Underlining the majority of the song, the combination of a powerful synth and production kicks into gear later on into the chorus, really packing one hell of a heartfelt punch to the listener.
It is this sound which tends to be prevalent throughout the majority of the EP. The following track 'Giving Up' experiments further with synth, creating an upbeat, charismatic song, despite its downhearted subject matter. Yet, perhaps the most ambitious experimentation of the EP is the rendition of Robyn's 'Call Your Girlfriend'. Covering a Swedish pop singer is pretty unexpected, yet Allison Weiss re-works the song to create a much more emotional, if a tad gloomier listen.
Yet, the real highlight of the EP is 'Take Me Back'. Displaying a cheerful, lo-fi groove that you can nod your head too appreciatively, Weiss prominently puts her heart on her sleeve and confesses her true feelings, passionately proclaiming that despite everything she will "probably take you back".
However, lasting just over 16 minutes, the EP fails to maintain any staying power. Allison Weiss' songwriting is excellent, and on the whole, the way she lyricizes her experiences are captivating, yet the EP is too short to create an impact on the listener. I am aware of course that it's just an EP, but with too few a song, it's hard to become too attached to the content when it is over so soon.
On the whole, 'Remember When' is an enjoyable, albeit short listen, in which Allison Weiss furthers her musical talent by experimenting with different genres, while still improving her songwriting capabilities. Concealed beneath the barrage of alternative and post-hardcore acts of No Sleep Records, Allison Weiss is a hidden gem, and her next release should be one to watch out for.
3.5/5
'Remember When' by Allison Weiss is out now on No Sleep Records.
Allison Weiss links: Website|Facebook|Twitter
Words by Harry Miller (@HarrryMiller)