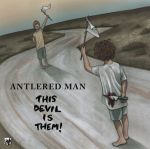 This sophomore LP entitled 'This Devil Is Them,' by London quartet Antlered Man, is firmly dipped in a vat labelled the 'Mike Patton school of thought'. An eclectic palette of prog, metal, punk, alt rock and noise is what this band utilise. The result: a good not great record brimming with ideas and ambition.
From the start, the band fare well with earth flattening numbers 'The Ballad of Hamhock Fullsleeve' and 'GDZ'. The former is frisking with noise and the latter switches between a cradlingly soft and crushingly heavy dynamic. Other fine examples include 'Ian Will Break Again', which has a pulsating bassline before exploding itself into manic fury, whilst 'Salute de Calm' has a dose of sombre weirdness which rings in one's ears. Throughout such crafts, vocalist Damo Ezekiel-Holmes has a consistent range; from a whisper to manic shouting to nasally pedanticism, his voice moulds well with the riffs and charm.
Despite all the aforementioned praise, let's not forget that at the start of this review, this reviewer did mention that this is a "good not great record". The lengthier songs, i.e. 'Claude the Ideal Bloody Gentlemen' and 'Audition Tapes for Hades.' These prog alt metal songs sure do display a grandiose ambition from the band, but there are points where they feel tough to swallow. Such lengthy songs display all the good qualities that make the band, though it does feel like that something's not quite there yet.
All in all, Antlered Man has made an interesting eight track output that reflects their ideas and ambition. A thickly rounded heaviness, weird doses of melody and a driving ambition present good qualities about the record. However this is all it achieves status wise; it's a good record but there's room for improvement and they certainly have the capacity to iron out the wrinkles in future to create something truly amazing. For now though, let us as listeners enjoy a solidly good record from a British band.
3.5/5
'This Devil Is Them' by Antlered Man is available on the 14th October on New Heavy Sounds.
Antlered Man links: Facebook|Twitter|Bandcamp
Words by Aaron Lohan (@ooran_loohan)