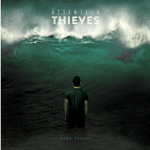 I was excited to be reviewing Attention Thieves' new EP; these guys have received a lot of hype since forming back in 2008. They have even grabbed the respect from Kerrang! magazine who named them in their '10 new bands to watch at Reading and Leeds' and even dubbed them as 'the forefront of a new wave of exciting British bands'. I have to admit, 'Hard Truths' certainly isn't a disappointment.
The EP is a well-crafted record over-spilling with real talent; for me these guys have it. They are another alternative rock band, but their songs have something catchy – it's refreshing, which is a rare-gem these days. The tracks are energetic, infectious, creative and powerful; all featuring captivating choruses, superb instrumentals, sweeping melodies and raw hard-hitting vocals. Basically, all the ingredients for perfect sweet-tasting rock hits.
It has an exciting introduction with 'Prove You Wrong', a fast-paced intricate hit which begins with heavy riffs and a wicked melody. The vocals are prevailing, the chorus is wonderfully catchy and the song presents real musical talent; all creating a speedy rock opener which certainly packs a punch.
This follows with the recommended listen of 'I Swear' which opens on the impressively moving lyrics of "I swear, I won't let you down, you need me, but I've heard it all before". The track features pithy screaming style vocals and backing singing on the chorus; making the words really stand-out, creating a real attention grabber and you'll soon find yourself singing along.
The other smash-hits include 'Why Do I Care At all' and 'Take A Bow' which feature incredible melodies, skilful electrifying rocky riffs and a dominant beat from the drums. Both tracks include exhilarating instrumentals and influential heavy-metal style vocals. After listening to these two, it's obvious these guys mean business and they definitely have the musical talent.
'Hard Truths' is an outstanding rock EP; all six tracks are full of diversity, flair and are magnificently beguiling. Every alternative music fan needs to grab this record and give it a listen; I promise you won't be disappointed.
4.5/5
'Hard Truths' by Attention Thieves is out on the 16th September on Hype.LBL
Attention Thieves links: Website|Facebook|Twitter
Words by Chantelle Kelly (@ChantelleKelly3)