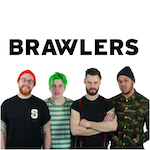 Formed just last summer, and consisting of former/current members of Dinosaur Pile-Up, Leftover Crack, Castrovalva and Martyr Defiled, Leeds quartet Brawlers have quickly built a reputation for their raucous live shows and now they have released their debut EP. Titled 'I Am A Worthless Piece Of Shit', Brawlers have delivered a fun collection of punk songs that are straight to the point, and definitely doesn't outstay its welcome.
Kicking off with 'Mothers And Fathers', it sets out the perfect template of whats to come in just 2 and a half minutes; raw, melodic and upbeat punk that instantly has you hooked. There's nothing more you could ask for.
'Instagram Famous' bulldozes in next with playful guitars energetic drums and sees Harry George Johns wittily questioning the pointless existence of the photo-sharing social network; '"You know it don't make any sense to me, you're gonna take your picture." If I had to pick one standout track of the many on here, 'Instagram Famous' would be the one. It's just a simple, upbeat punk number that deserves repeated plays.
Next up 'No Sweat' sees a hint of grunge come into the bands guitar work, whilst Johns' vocals provide pleasant harmonies in the chorus, ultimately carrying on the momentum of the EP. Meanwhile, 'Heart Attack' is another fantastic assault of rocking, pounding punk that doesn't hold back with an infectious chorus.
Penultimate track 'Boudelaire' has a swaggering undertone with fuzzy guitars, gang vocals and a punchy baseline that carries the track along. Like 'Heart Attack', its not the best track on here but keeps up the tempo of the EP.
The title track finishes off the EP with plenty of adrenaline. A combination of edgy guitars and faultless drums are met with Johns' bitter yet melodic vocals that ends with him declaring, "I am a worthless piece of shit, and you don't know it and I can't explain it". With that being said, its clear Brawlers have produced a worthwhile EP that is far from being shit.
From start to finish, Brawlers had me hooked on their brand of infectious punk rock that is genuine with no gimmicks or hype needed. Nevertheless, its no doubt there will be hype once people realise just how good Brawlers are. It's a collection of vibrant punk rock with pop sensibilities that is stripped back with all the unnecessary fat cut off. One of the best debut's we've heard in quite some time. Highly recommended.
4.5/5
'I Am A Worthless Piece of Shit' by Brawlers is out now on Alcopop Records.
Brawlers links: Facebook|Twitter|Bandcamp
Words by Sean Reid (@SeanReid86)