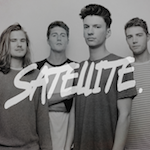 There is nothing wrong with Canterbury's new four-tracker, 'Satellite', and that's the problem. It's rare to hear such a meticulously written, neatly produced little package. For every pitch perfect vocal, smooth hook, or energetic chorus there is, well, nothing really. It sounds like a piece made simply because it was time to make that piece. Ultimately, I get very little from listening to it other than the knowledge that Canterbury are excellent at constructing songs. It's a difficult position to be in, to be reviewing a record like 'Satellite'.
Opening with the title track, every second is loud, intelligently placed, and fantastically played, but the whole thing just passes me by. I feel guilty for it, I so desperately want to like the track but it just feels so empty, massive, but empty. Second track, 'Get Out', has a sort of The Living End vibe running through it, which gets me excited. Ultimately this is the strongest song on the EP, crunchy guitars and a good hook but even the feedback that leads it out sounds too artificial. It's another excellent rock track that for me fizzles out half way towards becoming a nuclear blast.
'Glow' comes and goes. There's absolutely no denying that this is an absolute beast, full of smart vocal layers and belting along at top speed. Again though, it's a radio rock beast; all teeth and spit but with a super strength chain all too visible it's difficult to get worked up. 'You Are The One' feels much the same – big riff, jangly chords, danceable drumbeats, stomping chorus. A veritable connect-the-dots of a rock and roll track.
All in all I think that 'Satellite' will pick up a great deal of wholly positive reviews and even more sales and dedication from old and new fans alike. Canterbury will continue to grow and grow and eventually they could well be one of the UK's behemoths. I just hope that in doing so they break some of their own barriers. For such a massive sounding record everything is too safe, too restrained and all in all everything ends up feeling a little posed.
2.5/5
'Satellite' by Canterbury is out now on Hassle Records.
Canterbury links: Website|Facebook|Twitter|
Words by Thomas Knott (@nounandthenouns)