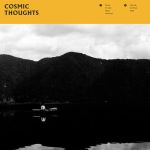 The latest 7 track mini-album from Cult Culture signees, Cosmic Thoughts, landed in my lap (lap meaning inbox obviously) today and it's a venture of immediate intrigue. Indeed, they are insistent in their message that unlike the handful of young bands yelling "punk isn't dead" from the dying flames that they themselves never came close to fanning, this is anything but retro mania.
The opening tag team of 'Decayer' and 'No Youth' could comfortably slot into the Joy Division back catalogue. Similarly to the genre pioneers, the tracks find a pop sensibility, both in production and their considerate 3 minute length, but still find the time to musically evolve and engross the listener with every added texture that crawls with subtlety into the mix.
'Ulysses' takes a different approach entirely and leads into a wash of gloomy psychedelia; the filtered vocal production dragging the voice from the forefront into a satisfying cocktail of gloomy synth and irresistible bass grooves. The relentless stride and Interpol-like guitar work of 'Saint Jude' makes for the record's magnum opus – it really is a true post-punk anthem in its own right – whilst 'Apollo' concludes the release with an art-pop stomp akin to The Cure around their 'Pornography' era.
The flaws of the release are 'Old Scratch' and 'Test Dream'. The latter being a near complete track left in unfortunate bewilderment without a lead vocal line, and the prior being a flat out ignorable experiment in shoegaze-y instrumentation. They serve only for the listener to ponder their exclusion, leaving the release as a near perfect 5 track EP. In the context of the band's promise as a whole however, they are minor blips, and its certainly going to be interesting and exciting to see what the lads from East Kent deliver from here on in.
4/5
'Cosmic Thoughts' by Cosmic Thoughts is out now on Cult Culture, Hot Salvation and DLPR Records.
Cosmic Thoughts links: Facebook|Twitter
Words by Joe Danher