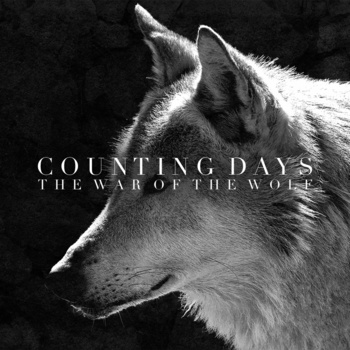 When a band can count former members of such highly regarded luminaries of the UK Hardcore scene as Architects and Heights, their debut release was always likely to be pretty decent. Such is the case with 'The War Of The Wolf,' the first EP from London five piece Counting Days.
On every one of the six tracks on offer, the band's undeniable hardcore pedigree shines through, the musicianship on show is absolutely top notch. Every frenetic moment is perfectly nailed with the play off between the chugging heaviest riffs and brutal breakdowns, and the more melodic heavy metal guitar sections particularly well judged.
Possibly the highlight of this EP is the storming vocal performance from Thom Debaere, who's throat shredding growl never drops anything short of purely menacing, while still giving a clear and easy to understand delivery of the lyrics.
Explosive first single 'Life and Death' and the brutally executed title track provide the EP's standout moments, while the accomplished Slipknot cover is also worthy of a mention.
'The War Of The Wolf' is a classy attention grabbing debut from this hardcore supergroup of sorts. Whether or not the band will be given the time to truly reach its potential due to many of its members more high profile commitments remains to be seen, but none the less this high tempo high energy starting point sets the bar high for their future output.
3.5/5
'The War of The Wolf' by Counting Days is out now
Counting Days links: Website|Facebook|Twitter
Words by Dane Wright (@MrDaneWright)