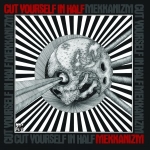 'Mekkanism' is the staggeringly good debut album from Bradford's Cut Yourself In Half, featuring ten tracks smashed full of huge riffs and pounding beats. The four piece have produced an album here that quite bluntly hammered through my Sunday morning, and had my neighbours fearing for their safety and banging on the walls.
'Little Misadventure' is a sludgy number that takes a few moments to catch alight, but by the time we've hit the first chorus the tempo kicks up and Cut Yourself In Half are flying. You begin to hear a relentless wave of impressive guitar riffs and gigantic progressions, matched perfectly by sharp and increasingly urgent screams. This floods well into 'The Song Remains Unnamed', with the only dud point being the track name itself, and then the brief interlude of 'Comatosed'. It's a breathless opening to a debut album and you find yourself hoping that the band can keep this up.
'Say Goodbye To The World' is predominantly a stab at a more conventional single, a little more focus on the structure and the words, and to be honest that does fall a little flat for large parts. The calmer, deeper, tones of the vocals don't work as well here. Credit where it's due though…the band don't stick at that for long and we're suddenly off on another fret board adventure and that carries well into 'The End'.
By the time you've hit the tail end of the album with 'Do it Or Die' and 'Spider Legs' you feel a strange mix of exhaustion and exhilaration – the band haven't let up for thirty minutes but you crave a few more epic breakdowns and your last moments of excitement.
The band are at their strongest when they lose that control and sound, increasingly frustrated and pissed off. It's the aggression and the energy that we feed off as the audience, and what I believe really sets Cut Yourself In Half apart. This is British heavy metal at its finest, even if those at 27 Morgan Close don't agree.
4.5/5
'Mekkanism' by Cut Yourself In Half is available now on New Heavy Sounds.
Cut Yourself In Half links: Facebook
Words by Tom Beck.