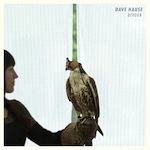 While 2011's 'Resolutions' was undoubtetedly a solid compilation of punk anthems, 'Devour' is something else entirely. An ambitious 12-song masterpiece with a sweeping narrative arc, Hause tackles the state of the world we live in and how we choose to cope with it. Drawing parallels with Billy Bragg's 'To Have And To Have Not', which declared "At 21 you're on top of the scrapheap, at 16 you were on top of your class" and 'the system's failed you, don't fail yourself', 'Devour' is a record with a troubled conscience.
Those already familar with Dave Hause will be pleased to know that his sound is still the same bluesy guitars and soulful Philadelphia vocals, but lyrically Hause has reached a new pinnacle. 'Devour' is simple yet powerful, there's no technical guitar work or Greg Graffin-type complex language but like Hemmingway, it's simplicity is what gives 'Devour' it's emotional weight. It's also the kind of album that should be listened to in order, as it's ideas are noticeably split into two halves.
The first half centres on the fallout of what Hause refers to as 'The Great Depression', the resulting effects of the idea that 'you can be anything, just get your education'. Dave Hause may be a full generation seperate from myself, but for many who have come out of University with a degree and zero prospects, this idea is one that will resonate. Single 'We Could Be Kings' furthers this idea of deceit and disappointment, it's chorus summarising, "They told us we could be kings, but we were damned from the start".
'Autism Vaccine Blues' and 'Same Disease' examine the effects of anti-alcohol medication (both prescribed and alcohol/drug related) and the results they have on yourself and those around you. "I can't feel alive unless I'm feeling sick" becomes a metaphor for a destructive relationship, a reoccurring theme that also appears in 'Before'. The first half of the album deals with some weighty issues, and is confessional in its honesty.
The turning point comes at 'Father's Son', which starts off as an excuse, "I am my father's son, it's a fate I can't outrun" before building into the realisation that this can be a positive, "I am my father's son devouring all I can't outrun". The concept of being your father's son is clearly something that resonates with Hause, and is mentioned in four of the album's twelve tracks. However the previous idea of being a victim of circumstance dissolves around this point, and 'Stockholm Syndrome' opens with a rallying fanfare that wouldn't sound amiss in a Green Day concept album. Luckily the lyrics such as "sick of feeling sick, let me up, I've had enough" (which reference 'Same Disease') manage to weigh in on the right side of uplifting without wandering into Glee territory.
Having been played live since the beginning of the year, 'Shine' will undoubtedly familar to fans. Similar to 'C'mon Kid', the simple refrain of "meet your darkness with the shine" is likely to become a live singalong classic. Proving that he is equally adept at slower songs, penultimate track 'Bricks' is a softer, number made memorable by the emotion that seethes through Hause's voice as he sings.
Closing with 'Benediction', Hause draws closure by summarising each of the albums ideas, self-referencing as he declares, 'open wide and sing because we're damned from the start'. Having exorcised his demons over the course of 'Devour' Hause concludes that "love in the end, it can save us tonight".
There are some albums that manage to capture a place and time perfectly and this is undoubtedly one of those albums. Raw and beautiful , 'Devour's strength lies in it's simplicity, it's "just a man and guitar" basicness. A contender for album of the year, this could be the release that catapults Dave Hause to Frank Turner levels of popularity.
5/5
'Devour by Dave Hause is released on 8th October via Rise Records.
Dave Hause links: Website|Facebook|Twitter
Words by Jay Sullivan.