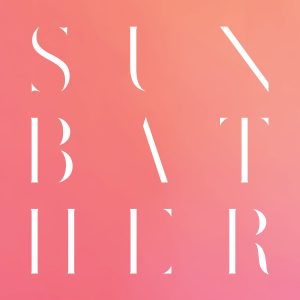 The word 'hype' is controversial; it is something rooted in the concept of a subjective opinion. Therefore its direct meaning is a lot of people, in their opinion, believe something to be spectacular. In regards to the second full-length from San Franciscan troupe Deafheaven it is in this reviewer's opinion that the hype surrounding it is deserved and just. However, this reviewer also objectively believes that this album entitled 'Sunbather' is incredible, and its creators have an untouchable artistic skill like no other.
The band have honed their songwriting abilities with a gentle brush stroke; black metal screams pierce through but are dominated by the twilight mix of post-rock, shoegaze and ambience dominating the soundscape. Opening track 'Dream House' and closer 'The Pecan Tree' identify an adrenaline rush of drums from Daniel Tracy which eventually slow down, whilst Kerry McCoy's harsh screams and the beautiful ambient guitar work dance around aimlessly. The bleak 14-minute epic 'Vertigo' and the majestic title track show off the huge scope of the band's output making you feel small and reflective on a lonely hillside. Between the grander songs, the spoken word into acoustic flow on 'Please Remember' and the sombre piano-led atmosphere on 'Irresistible' provide a calming interlude.
The core and heart of 'Sunbather' lies in the delivery and contrast reflecting the themes. The focus is the strive for personal perfection coupled with the saddening reality. The screams reflect the desperate cries of an individual unable to catch a sense of such perfection as mirrored by the sweeping beauty found in the other elements of the band's sound. It is this contrast that injects a human quality into the LP. Such an honest, fleshed-out touch shows the true skill of Deafheaven as a band.
It is without question or hesitation that this reviewer sticks by the point he first started. 'Sunbather' by Deafheaven is an accomplished piece of art. It contrasts a sombre beauty in guitars, keys and atmosphere with the adrenaline-fuelled cries in vocals and drum work. The majestic delivery in this is coupled marvellously with the themes providing a relatable human quality to the record. Indeed, 'Sunbather' by Deafheaven is a game changer and a classic in this modern music era.
4.5/5
'Sunbather' by Deafheaven is out now on Deathwish, Inc.
Deafheaven links: Facebook|Twitter
Words by Aaron Lohan (@ooran_loohan)