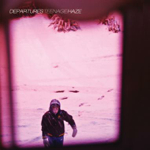 The word oxymoron is defined by describing an object that features two opposing elements that create a contrast; the result of this contrast can go two ways, for 'Teenage Haze', the second LP from Glasgow band Departures, this goes the right way, resulting in a brilliantly crafted painting of sorrowful beauty.
Utilising a palette crushed with the best colours from 90s emo and melodic hardcore, 'Teenage Haze' has a beating heart of despair and struggle woven in twinkling melodies, sombre drum fills, and coarse tear soaked yells. 'Making Maps' and '21' have shimmering notes which wind and etch into the emotional links that fuse your brain and heart into one, whilst the record's self-titled interlude lulls you further into the shadow filled starlight that is the second half.
This second half of the record is where the band truly shines in innovation and freshness without ever straying too far from their usual formula. For instance, 'Where Time Will Go' begins with a slow alluring heartfelt intro that builds up into a fast paced urgency that captures the emotional subject matter that is entwined within the songwriting. The conclusion of the record has an aura that is simply mesmerising for the ears and to ones imagination; 'Planting Weeds' and the ambient led 'Small Steps' are brimming with a dark foreboding instrumentation that is cold to the touch, both musically and lyrically on impact.
If there is one criticism, it would be that 'Teenage Haze' ends quite aprubtly leaving you over the edge and crushing your need for a rope to hold onto thus plummeting you into a state of yearning. Perhaps this shows the brilliant effect of Departures as a band, they make you want to listen to more of what they have to offer. For now, the only solution is to play this record repeatedly so that you are kept on an all-time high.
4/5
'Teenage Haze' by Departures is out on November 26th on In At the Deep End Records except in North America where it is on out on the 27thNovember on No Sleep Records
Departures links: Facebook|Tumblr|Twitter

Words by Aaron Lohan (@ooran_loohan)