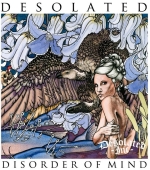 UK hardcore is thriving, and Desolated are adding their latest offering 'Disorder Of Mind' to the ever growing scene, providing us with their well known deathcore blend. Get your two stepping and windmills at the ready and prepare to cause chaos, because this EP is definitely going to cause a stir, and a good one at that.
The Southampton chaps create a recipe of death metal and hardcore, mixing the two to serve up a rather tasty dish, as 'Disorder Of Mind' proudly boasts. 'Year Of The Snake' kicks off the EP in style, slowly building up to kick into a killer riff and edgy hardcore vocals. Just over a minute into the track we experience our first down tempo breakdown that continues until the end of the track to produce a bold Desolated opening.
'Death By My Side' is dominated by chugged riffs and booming percussion, leading into 'Suffering' which notes a similar set up, with vocals particularly shining; focusing on a harsher, deeper bellow in parts, progressing back to the raw vocals that are present during the majority of the EP. Final tracks 'Strung Up' and 'Delusions' are just as powerful as the first half of 'Disorder Of Mind,' continuing to reiterate the true talent and musicianship of the band who really get to grips with their genre.
Desolated have proven that they are very much an integral piece of the deathcore puzzle and 'Disorder Of Mind' will be sure to pleasure the ears of those that get their hands on it. A very strong, consistent EP and one that will ensure the band will take one step further on that path of success.
4/5
'Disorder Of Mind' by Desolated is out on now via Desolated Inc.
Desolated links: Facebook|Twitter|Website
Words by Hannah Gillicker (@HannahGillicker)