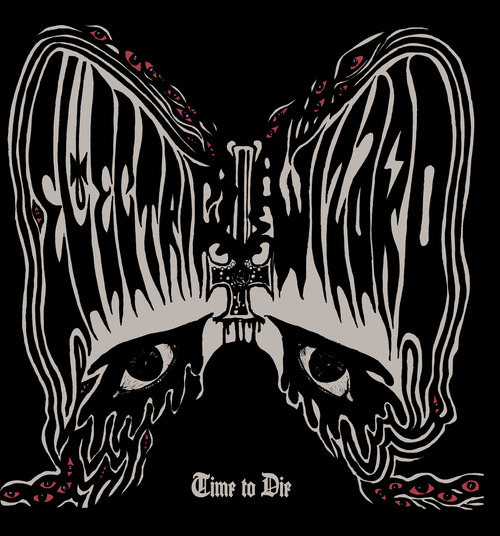 With 'Time To Die', the eighth studio album and first in four years for seminal Dorset doomsters Electric Wizard, I find myself in the unique position of being presented with so much music, with so very little to write about it. While it's a genre that's undoubtedly formidable in the live arena, the ability of doom metal on record to engage the listener without the aid of certain narcotic materials can vary wildly; a record like Sleep's 'Dopesmoker', for example, is entrancing and hypnotic, whereas this record, standing at 65 minutes worth of downtuned sludgy riffage, can become rather a chore to consume. The guitar work on this record can almost certainly pack a mighty wallop when witnessed live, but its repetitive nature combined with the languid, monotone vocal of Jus Oborn means that in its recorded form, 'Time To Die' falls sadly short.
This may be because Electric Wizard feel they have nothing left to prove; in their 20+ years, they have produced two genuine genre hallmarks in 'Dopethrone' and 'Come My Fanatics…', which can afford them more opportunity than most to rest on their laurels a little. While doom isn't predominately the province of bands that sound like they're overexerting themselves, this record barely moves out of second gear – extended jams drawn out over tracks breaking the 10 minute barrier with barely a memorable moment to show for it. At points I was aching for something, anything to happen, and sections like the denouement from the halfway point onward of penultimate track 'Lucifer's Slaves' are the exception rather than the rule, as for the majority of the album, Electric Wizard seem to be intent on making a big racket, without saying anything much at all with it.
There are enjoyable parts to this record, such as the "Phantom Of The Opera"-esque intro to opener 'Incense Of The Damned', but one suspects that's rather an unintentional homage given the dour mood that dominates 'Time To Die'. The cuts of news reports and the classic Wizard film samples discuss Satan, killing, death and more Satan, which sounds rad when you're in your teens but a little puerile subject matter for this quartet in their 40s. All these constituent minor quibbles make for an unsatisfactory whole, and amounts to one thing – despite emerging from the hands of genre legends, this album is, frankly, boring.
Electric Wizard are one of those bands that form a constant reference point that I don't quite understand, one of those bands I've always been meaning to check out but haven't got around to. Whilst I'm sure their fertile late 90s period is still absolutely worth my while, the Wizard of 2014 doesn't warrant such thorough investigation. Rather than overwhelmed by the crushing power of riff found on 'Time To Die', I find myself just "whelmed" – this strikes me as the sound of a band trying to recall some of their earlier potency and finding themselves a little directionless. Should the band heed their own advice provided by the album's title? Probably not, as this still seems like an enticing proposition in a live setting, but more vitality may be required for album number nine; given Electric Wizard's track record for work rate, put some diary space aside for that one sometime in 2019.
2.5/5
'Time to Die' by Electric Wizard is out now on Spinefarm Records.
Electric Wizard links: Facebook|Website
Words by Ollie Connors (@olliexcore)