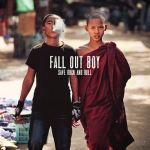 By now, everyone knows the story of Fall Out Boy to this point. Hardcore kids found pop-punk band for a joke, band makes three landscape-changing, generation-defining records, band breaks up, band announces reunion, announces tiny shows, ticket agents make people cry, etc, etc. 'Save Rock and Roll' marks the beginning of a new chapter in the thus far rollercoaster existence of Fall Out Boy, and sees them coming back not just with a bang, not just with an explosion but with an absolute phenomenon of a record.
Towards the latter end of their first incarnation, it was quite clear Fall Out Boy had every intention of becoming the biggest pop band on the planet. You could clearly observe more and more pop influence seeping in on 'From Under The Cork Tree' and 'Infinity On High', turning their back on their Lifetime-aping beginnings, and it was on 'Folie A Deux', the full-length that turned out to be their swansong, where they had the chance to stake their claim for superstardom. Unfortunately, that record turned out to be confused, directionless and ultimately disappointing; thankfully, time heals all wounds and 'Save Rock and Roll' is the record 'Folie' should have been. Pete Wentz's lyrics have always had their tongue firmly in cheek, but the title of this album takes the biscuit – they have no intention of saving rock and roll, in fact, this album kills off any pretension of Fall Out Boy as a "rock" band – it's pure unapologetic pop music, and it's utterly glorious. The concept of "classic" Fall Out Boy is a laughable one – no such thing exists – but this blows any preconceptions you may have about this band out of the water.
The album announces itself with 'The Phoenix', an almighty statement of intent right from Patrick Stump's exclamation of "Put on your war paint". The song is a metaphor for the band's return – they have changed (like a remix) and risen from the ashes (like a phoenix). Europop synths, swelling strings and a kick-drum sound like a thunderclap play under this triumphant anthem, and while it may not have been a fantastic choice for release as a single (every track on here sounds ripe for Top 40 candidacy), it continues in FOB's fine vein of taking flight right from the starter's gun.
The diversity of influences this album has brought into play under the helm of producer Butch Walker is astonishing. 'My Songs Know What You Did In The Dark (Light 'Em Up)', a hugely divisive song on initial release, has the stomp and exuberance of a Kanye West record – in fact, the 2Chainz remix version, our first glimpse of Fall Out Boy 2.0, had an identical production style to 'My Beautiful Dark Twisted Fantasy', a personal pinnacle in 21st century musical achievement. 'Alone Together' is the perfect marriage of the anthemic 'Umbrella' by Rihanna and the celebratory atmosphere of 'We Are Young' by fun., and caps what is a remarkable 3-hit combo to begin Fall Out Boy's sixth album.
Patrick Stump's voice, already a key component of this band, here becomes stronger than ever before, yet still feels like it's not being pushed beyond second gear. This record represents a vocal masterclass, whether it be his croon on 'Young Volcanoes' or the belting 'Just One Yesterday', which features one of this album's many guests, relative newcomer Foxes. Her voice – reminiscent of Marina (of "And The Diamonds" fame), Ellie Goulding & Lights – and Stump's intertwine perfectly on the best example of an extra tool well employed by the Chicagoans; the other guest spots don't turn out as well. Hip-hop star Big Sean's verse on 'The Mighty Fall' proves jarring and Courtney Love's turn on 'Rat-A-Tat', other than an excellent "It's Courtney, bitch" introduction, is swallowed up under that song's energy, and her stream-of-consciousness rants sound flabby next to Wentz's smart lyrical turns, which have shades of Say Anything's 'Admit It!' about them.
However, despite having a similar "chuck as many guest stars at the wall and see how many stick" approach as this album's predecessor, where it triumphs over that and other FOB records is in not allowing quality to decline in the latter half of the record. The aforementioned 'Young Volcanoes' zips with pep and vigour, with an almost tribal drum-beat closing out this delightful number. 'Death Valley', which has "future single" written all over it, sounds absolutely gargantuan; even managing to sneak in a dubstep breakdown without sounding a note out of place.
If 'The Phoenix' begins 'Save Rock And Roll' with a statement of intent, then the eponymous closer is the band's call to arms, the anthemic torch song that will get fists, lighters and arms waving aloft when played live. Even as Fall Out Boy rip up their own rulebook, they still find time to give a nod to their roots (the reference to 'Chicago Is So Two Years Ago' will send a chill up longtime fans' spines), concurrently to being of such a status they can have Elton John singing alongside Stump. A euphoric end to a remarkable record, the Fall Out Boy of 2013 presents itself as quite something to behold – whatever you loved this band for before, be prepared to love them for being themselves, because this is the truest representation of Fall Out Boy to date and the culmination of what they've always been striving to become. Fall Out Boy is dead, long live Fall Out Boy.
4.5/5
'Save Rock and Roll' by Fall Out Boy is out now on Island Records/Decaydance.
Fall Out Boy links: Website|Facebook|Twitter
Words by Ollie Connors