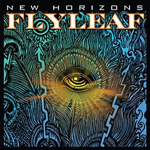 Texan band, Flyleaf, return with new album 'New Horizons' and it's packed full of anthems. With catchy choruses and sing-a-longs, this album will almost guarantee to get stuck in your head within the first listen.
I haven't heard any of their back catalogue;  but listening to 'New Horizons' on first listen, I was quite impressed with how the album kicked in straight away and immediately caught my attention. With similarities to Paramore – but perhaps with more of a gothic touch – this album will be liked across the board with elements of hard rock and pop-rock.
'New Horizons' opens with track 'Fire Fire', which is nothing short of catchy, jam packed riffs and is also insanely anthemic. You could easily see this track being the opener to a set on tour because when you hear it, you can envision a huge crowd singing along. Second track, 'New Horizons' is just as catchy but it's when third track 'Call You Out' kicks in; you start hearing a less poppy side and more of a harder rock side to this album. They mix a good amount of rock and pop and so that they could quite easily gain good radio air play and become the next Evanescence.
The problem with this album is that after the first 4 tracks, it tends to start becoming a bit bland and boring to listen to. Most notably, track 'Great Love' isn't particularly outstanding, despite the good amount of riffs and melodic vocals. Similarly, 'Bury Your Heart' is very drab and although it's very melodic and easy to listen to, it's an album that could make you fall asleep.
The standout tracks for me are at the beginning of the album; 'Fire Fire' really kicks in and sets you up for a storming listen but it just doesn't fulfill that great energetic vibe all the way through. It's a shame because you can see there was potential to have such a great rock album and the fact that it ends on mellow song 'Broken Wings', is disappointing. It could have been vastly improved by having it in the middle of the album to break it up.
There haven't, by any means, been any broken boundaries on this album; it's very safe and although catchy and melodic as it is, it just isn't anything new to listen to.
3/5
'New Horizons' by Flyleaf is released on the 8th April on Spinefarm Records.
Flyleaf links: Website|Facebook|Twitter
Words by Sarah Russell (@sarahbydesign)