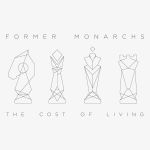 Irish four piece Former Monarchs hail from Cork, Ireland and have spent the majority of the last couple of years preparing this, their debut full length, and emerging only briefly for performances with And So I Watch You From Afar and Fighting With Wire.
The sound sits somewhere between shoegazer indie and post-rock. Comparisons could definitely be drawn between them and the likes of Oceansize or Mogwai, but they are far more light on their feet and put a heavier emphasis on vocals. Maybe they are closer to Minus The Bear in that respect, although lacking the style and guile the aforementioned have in spades.
'Origins' opens the album with plenty of atmosphere, but just feels way too wordy. You can tell that Former Monarchs are making a great effort to come across as cerebral by hurling a thesaurus through the speakers, but they don't strike the right balance and a lot of the time the lyrics just don't chime well with the structure.
It's notable that on moments like the chorus where the singing is drawn back a little and the layers of sound are allowed to breathe and dominate that it sounds so, so much better.
They carry a certain freshness, a spritely and uplifting energy which is refreshing when most bands of this ilk prefer to appeal to our gloomier natures. They don't rely on pounding, bass driven tones and instead opt for twinkly chords, optimistic vocals and a whole menagerie of instruments from woodwind to keyboards and string sections, creating a lively canvas.
They certainly know how to play their instruments, and on 'Buyer Beware' we're treated to an instrumental bridge that displays their talent for carrying a song perfectly without relying on the vocals, If they had stretched this approach across the rest of the album, you feel the result would have been far more impressive.
A further issue is that unfortunately the vocals themselves are rather plain and uninspiring. You'll get hushed ambience, you'll get raised chanty bits on the choruses – and that's about your lot. They certainly don't have the captivating qualities of the kind of bands they would consider their peers.
Other songs deteriorate into something of a fret-wanking episode. There's something that leaves you feeling uniquely hollow about listening to a track that clocks in at 7 minutes 55 seconds, as is the case with 'Clans', and you realise you haven't really been taken on any sort of journey but actually just endured the whole experience until the bitter end. Music like this demands subtlety and power, both used in the right places and sometimes together. Former Monarchs are yet to master this.
Irritatingly you'll find their best track right at the end when it's already far to late and the damage has been done. 'Machine Halls' traverses all the tightropes and remedies most of the criticisms that I've made. It's a lovely, layered and brooding piece. The lyrics; All that's been said and done, all that remains, I'll take this broken sun, I'll take the blame" rolls over and over and sits comfortably in the atmospherics of the music.
But in general, what Former Monarchs have brought to the table here adds very little to what has already been achieved. For all the moments of promise, I have mentioned there is so much work to be done, and those who they'll need to catch up with are streets ahead.
2/5
'The Cost of Living' by Former Monarchs is released on 24th March on Mountains of Records.
Former Monarchs links: Facebook|Twitter|Bandcamp
Words by Alex Phelan (@listen_to_alex)