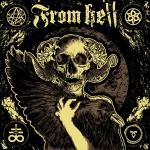 When I think of Paper + Plastick Records I think of the country-tinged alt rock of Cheap Girls or the melodic punk / Lifetime worship that we all know and love Shook Ones for. It was for that reason that initially when I saw that they had released a 'blackened d-beat / thrash' record by Detroit based From Hell it seemed a bit of a miss-match. After listening through the album, though, I can definitely see why Paper + Plastick broke away from their preferred brand of light-hearted punk rock to release From Hell's debut 7 track album 'Heresy'.
In the opening track 'Nemesis Of Neglect' an eerie, clean guitar provides the background music for a haunting spoken word excerpt for around 30 seconds before you're hit with a hint of just how heavy this record is going to get. It's the perfect precursor for what you're going to be hearing over the next 18 minutes (yes, just 18 minutes, but we'll get to that later). The Converge influence is very prominent. In fact, if we want to get specific, the structure and style of track number 6 'Holy War' is heavily reminiscent of Converge's 'Axe To Fall'. It emulates the shortness, sharpness and aggressiveness of 'Axe To Fall ' with the comparisons not ending there. They both start with a fast paced hardcore punk feel and slowly throughout the course of the song slow down until we're left with a slow, heavy as hell breakdown with the crunch of the guitars barely making it's way through the pure anger in the vocals.
As we move through the record I can also hear elements that could easily be compared to Seattle hardcore outfit Trap Them, most notably the faster parts of which a perfect example can be heard in 'Terror'. I must point out though, even with such obvious influences I definitely wouldn't say there is any 'ripping off' going on here and to be honest if you're going to make a record in this genre I can't think of two better bands to draw influence from. From Hell combine these influences and inject their own refreshing originality, which is usually in the form of being able to cut from a fast paced, blast beat verse straight to an atmospheric bridge featuring only pianos and strings, all the while making it sound good, which is of course the hard part. The ability to make such transitions with such ease gives them an overall sound that helps them stand out from other bands doing the hardcore/metal thing at the moment.
I am aware, as I'm sure the band are, that the haunting spoken word samples that feature on a few of the tracks are something that some people may feel are a tad overused and cliché when it comes to this kind of metallic hardcore, but ultimately I think we should all appreciate that it comes down to how and when they are used. For example, 'Crucifix in a Deathhand' contains an instrumental produced just by piano and strings, along with one of the aforementioned vintage-sounding spoken word excerpts and it really makes for a fitting, appropriate way to bridge the gap between 'Unholy' and 'Holy War', which are two of my personal highlights on the record. 'Unholy' takes almost every element that the other songs on the album have to offer and goes overboard with them, executing them perfectly and packaging them into just 2 minutes, plus 'Holy War', the previously mentioned 'Axe To Fall' sound-a-like.
From Hell use their dark metallic-hardcore and pair it with aggressive lyrics to try and and produce a sound that captures the darkness, anger and depression reflective of their surroundings and I'd say they do a pretty good job. For example, in 'No Place Like Hell' we hear the line 'I am alone again, abandoned, forgotten, worthless, rotten' which completely nails everything that this album is about in just one line. Move on to the last words on the album: 'Sorry for all I have done, it's time. Terminate, suicide' and I think you'll have a pretty good idea of the sort of dark, self-deprecating lyrics that are used all through the record and if I'm honest, they don't stray too far from the two examples I've just given. On that note though, I can't say I expected much else.
Lastly, with the record being on Paper + Plastick, a record label that was founded around the whole idea of the physical representation and art behind music, I can't not talk about this album's vinyl release. Limited to 650 copies, it comes in a variety of combinations in true P+P style. We're able to pick up any of the 600 copies that have regular artwork across three different colour schemes (300 black, 200 red and 100 black w/ red stripe), although for any of those serious collectors out there are also offered an alternate artwork version limited to just 50 copies. If that wasn't enough for you, the sleeves for the release are hand screened with screening ink that contained samples of the band members' blood a la the Kiss comic book series in the 70s.
In summary, as someone who doesn't like to indulge in too much in the metal side of things, the 18-minute cut off point isn't too much of a problem for me. I can, however, see die hard fans of the genre being a little disappointed after being promised an album yet only being delivered 18 minutes total. I do understand that you're supposed to keep the fans wanting more but there's a fine line between wanting more and feeling short-changed. It's not all disappointed though as although short, the record does provide thoroughly enjoyable take on mixing thrash and hardcore punk with heavier metal elements and I would suggest any fans of the more metallic side of hardcore to give this record a spin.
4/5
'Heresy' by From Hell is available now through Paper + Plastick Records.
From Hell links: Facebook|Bandcamp
Words by Joe Hart (@nottheJoeHart)