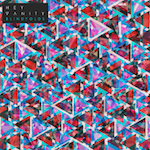 Chelmsford quartet Hey Vanity are one of many UK rock acts that have been trying to make a name for themselves over the past 18 months. Having played shows with the likes of Don Broco, Mallory Knox, and more recently, Straight Lines, Hey Vanity have built a small but strong following, and with this new mini-album, 'Blindfolds' are certain to expand that following.
Kicking off with 'Before I'm Old', the four-piece showcase a bright, upbeat style that instantly has you hooked, whilst Marc Halls' subtly raspy vocals give the bands sound a raw edge. As 'Blindfolds' drives on, tracks like 'What Have We Done' and 'Some May Say' prove to be energetic, whilst 'Broken Artist' momentarily holds back before producing an onslaught of crunching riffs and soaring vocals.
The title track sees the band taking a softer approach allowing Halls' vocals to be more soothing, complimenting the slow burning build of the track. The payoff is rewarding and compelling.
One trait Hey Vanity show on 'Blindfolds', is their ability to continually produce a mix edgy guitar riffs with pop-rock hooks; see 'The Worst Things In Life' and 'Old At Heart'.
I'll admit their style is nothing revolutionary and unfortunately for Hey Vanity, there are more than a dozen bands that sound like just like them. Nevertheless, 'Blindfolds' shows growth from the band's previous releases and gives an good indication of what we can expect from Hey Vanity.
They might not be bursting through the glass ceiling of major success yet, but if they keep on producing songs as good as 'Blindfols' and 'Before I'm Old', they soon will be.
3.5/5
'Blindfolds' by Hey Vanity is out now on Small Town Records.
Words by Sean Reid (@SeanReid86)