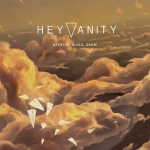 Chelmford's Hey Vanity present 'Breathe, Bleed, Grow', a home grown slab of straight up British rock. Featuring members of the now defunct Fei Comodo, the band are in their infancy but have a good history, which is a reason why this debut on Small Town Records sounds so good. Following in the vein of bands like Mallory Knox and Don Broco (who they have recently toured with) Hey Vanity are adding to this surge of bands taking a more direct rock route, adding to an already diverse scene.
Fei Comodo were a band I had always heard of but never bothered with, which I suppose for the sake of this review is a good thing as I do not need to compare the past with the present. Hey Vanity play straight up rock music; straight forward instrumentation is blended with heartfelt vocals. It is a release; I wouldn't have openly gone in search of but it is a great debut.
'Bleed, Breath, Grow' is the first single and title track, starting with the driving guitar line, the song seems to pick up during the chorus and carries on that level throughout. Lyrically it is fairly straightforward, however it produces the one thing songs need, a hook. The title track will be in my head all day now guaranteed.
The humorously named 'Terry Tibbs' is again another driving guitar riff track, it's pacing and is sort of similar to the previous track, it solidifies their sound as a band I suppose so can't be seen too negatively.
'Wading Through Dreams' steps up, much like that title track it is catchy as hell, these guys really know how to write a good hook. The guitar riff is quirky, straightforward, but has a great upbeat feel to it. Vocally it is sound, complimenting the instrumentation it is a stand out track.
Hey Vanity as a band are infantile, however they have enough experience from previous efforts to know what they are doing. They have picked up on something good here, it won't be long before they are doing headline runs and playing alongside the aforementioned bands not just as support to them. There is still room for development but you couldn't ask for a stronger debut; with a strong record label backing them Hey Vanity are going to go from strength to strength.
3.5/5
'Breathe, Bleed. Grow' by Hey Vanity is released on 8th April through Small Town Records.
Hey Vanity links: Website|Facebook|Twitter|YouTube
Words by Robert Maddison