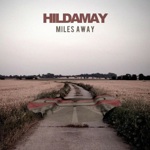 After presenting the blueprints, Hildamay finally construct their début full length album, which confirms the ambition and sheer potential of the Kent quintet. 'Miles Away' takes a punk rock urgency and grit to a very high scale that is almost reachable.
The musical foundations of this record involve very well crafted songs that merge and establish a co-operative relationship between melody and heaviness. For example, 'Broken Records' sees a Deftones-esque intro which features slamming bass and drums that are followed by a fluttering output. This balanced formula helps to create brilliant anthems that latch onto you with the mightiest talons; the faith questioning 'The Light' and rocking cyclone that is 'Changing the Key' are huge songs that'll have many a person scurrying to eat out of the band's hands. A significant symbol of this mould is from lead vocalist Tim Lawrence who manages to shift from gravel tinted bellows that rip roar like on the monstrous 'A Wild Fervour'  to a sheer softness that accompany rising winds as found on 'Consequence'.
The best moments of this record are during the lighter and softer tracks that accompany much of the sonic mayhem. For instance, 'Letters Like Bullets' has twinkling melodies of hope that shine out of what is essentially a melancholic themed track that is surrounded by a brick wall of put downs. Such enchanting moments have an absolute majesty that is so soothing for the ears.
The piano led outro at the end of 'Because I Cannot Sleep, I Make Music at Night' reveals an unknown road that lies ahead; a road that so far has shown that as a band, Hildamay have a striving attitude and ambition for the music they make. Who knows what will happen in the road that follows this one, at least there is a reassurance that this band's career has an undeniable potential to achieve great things, and this record proves that.
4/5
'Miles Away' by Hildamay is out on 5th November through A Wolf at Your Door Records.
Hildamay links: Facebook|Twitter
Words by Aaron Lohan (@ooran_loohan)