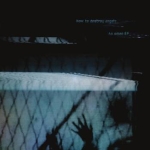 It's strange that though 2012 is coming to an end, there are a still a slew of brilliant releases that are just seeing the light of day. Some of these records can act as a taster of things to come; this is definitely the case with the second EP from How to Destroy Angels, the new project from Nine Inch Nails frontman Trent Reznor. Some of its songs have been reported to appear on the band's upcoming full length in 2013 and for what it's worth, this is a really great sign of things to come.
Indulging on a heavy experimental electronic soundscapes, the record is tied together with an eerie backdrop but each track is separated out by its own innovative tweak. For example, 'Ice Age' features a constant mesmerising loop of acoustics and percussion that have a pure lulling quality. This contrasts with the low eerie ambiance that lurks in the background, as if you were walking on a beautiful frozen lake that could be the end of you. 
How to destroy angels: Keep it together from How To Destroy Angels on Vimeo.
Helping to hold the foundations of beauty and suspense on this record are the soothing vocals of Reznor's wife Mariqueen Maandig, whose sound is simply enchanting and is definitely the first thing that keeps you locked in your chair gripping tightly to the armrests: her voice sounds absolutely stunning when it's put against the wall of the industrial bassline on first track 'Keep It Together'. The occasional back-ups from Reznor only help to act as solid middle ground between these two opposing forces of light and dark. Final song 'Speaking in Tongues' sees husband and wife sing in a unified haunting chant, in what can only be described as a frightening ritual of the ages found in the deepest chasms of a sarcophagus.
Although it is the end of the year and 2013 is yet to begin, 'An Omen EP' gives us an insight through the looking glass of what could possibly be one of 2013's highlights. Once again, we are proved that through whatever art form, Trent Reznor has the power to turn it into a metal purer than gold.
4/5
'An Omen EP' by How to Destroy Angels is out now on Columbia Records.
How To Destroy Angels links: Official Website|Facebook|Twitter
Words by Aaron Lohan (@ooran_loohan)