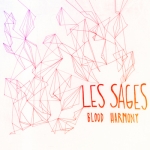 Les Sages are curiosities. Seven siblings, seven voices and seven songs make up this intriguing band and their latest release, 'Blood Harmony'. Although this may all sound overly twee with Royal Tannenbaum undertones, it is a concept that is pulled off in an impressive manner on this vocally mesmerising mini-album.
'Mexique' opens the EP; an ethereal, It has a real frontier, wild-west spirit and reminds the listener of Bright Eyes meets Los Campesinos!. There is a serious, bubbling and brooding undercurrent mixed with an innocent and youthful optimism in a song that acts as an ode to the spirit of Mexico.
'La Lutte Des Classes' mixes an outlandish twee sound akin to Fun. with a dash of Noah and The Whale, they skirt around the edges of indie folk and twee without ever becoming Mumford and Sons.
<a href="http://deepelmdigital.com/album/blood-harmony" data-mce-href="http://deepelmdigital.com/album/blood-harmony">Blood Harmony by Les Sages</a>
'Nomades' has a Postal Service vibe, and like the rest of the EP, sits on the precipice of emo-y style lyrics and melodies, with more intricate, indie-style guitars and themes. 'Cicatrice Du Soldat' is the song which reveals this emo influence the most.
Each song has its' own distinct personality owing to the eclectic song writing influences on the album and although the whole seven siblings forming a band sounds like the plot of a Wes Anderson movie, there is nothing gimmicky about any of the songs on the album and they all fit together in an astonishing manner.
'Blood Harmony' is a stylistic cluster fuck, with tinges of many different influences in this charming indie-emo crossover album. It is a refreshing listen that came out of left-field for myself and utterly charmed me. It features enough to keep the listener entranced from the opening to the close and is one of the quirkier and surprising (in a good way) releases I have listened to this year.
4/5
'Blood Harmony' by Les Sages is available now on Deep Elm.
Les Sages links: Official Website|Facebook|Twitter|Bandcamp
Words by Tom White