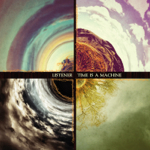 Listener has evolved from a macbook toting duo into a full band and have produced their third full-length, 'Time Is A Machine', a deliberate, cohesive effort that is devoid of filler and is completely self confident.
If you've never listened to Listener, the first thing you'll note is the frantic, sometimes erratic, spoken-word style vocals from Dan Smith, and this style is either something you'll really love or really not love. Regardless, there's no way you could deny the absolute passion behind every single word of every single lyric. The lyrics are powerful, vibrant, and full of imagery that make it easy to connect to the songs.
However, the vocals can be completely distracting. The passion can escalate into mania, and the instruments fall into background noise, to the point that it may not matter what's playing, because all you'll be able to focus on is the crazy-sounding, impassioned vocals. This is a shame, too. 'Eyes To The Ground For Change' starts with a really interesting vintage sound, with a driving, pushing, pulsing quality that absolutely grinds to a halt when the vocals kick in. They're so harsh compared to the mellow instruments that it rips the song apart. 'Everything Sleeps' is packed so full of words in such a frantic pace that it smothers the instruments. The vocals, since they're not sung with melody, get a bit stale and predictable. And this is a shame, as the lyrics are so powerful and the music is so delicate.
The best thing about 'Time Is A Machine' is the less-is-more technique they are able to display in many of their songs. The instrumentals overall are simple and the band is not afraid of the gaps of sound this creates. There's a simplicity that is hard to achieve, and they do it with a practiced, delicate hand. 'Not Today'  is echo-y and cozy at the same time. The simple, pretty melody and the spoken-word vocals mesh together into an almost lullaby of sorts. It's ethereal and then suddenly explodes into discord. The final song on the album, 'It Will All Happen The Way It Should', is almost bare, with a simple guitar melody and uncharacteristically sparse vocals is the one track that manages to balance the vocals and instruments perfectly.
'Time Is A Machine' suffers from a lack of balance. The instruments don't even fight with the vocals; the vocals batter down the instruments and at times renders them useless background noise. There are some really beautiful, lovely moments on this album, and Listener is super talented and has a very strong aesthetic. This, though, is an unbalanced effort, and the unbalance hinders the talent that the band clearly has.
3.5/5
'Time Is A Machine' by Listener is out now on Tangled Talk Records.
Listener links: Website|Facebook|Twitter
Words by Jenny Gagas (@Jenny_herself)