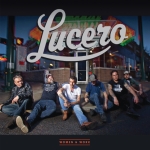 Lucero have been dealing in the Southern-tinged punk(ish) brand of rock since the end of the '90s, before it became cool, or whatever. We're not talking about a band riding the hype wagon Gaslight Anthem kickstarted with 'The '59 Sound,' or the heretic revivalists Kings Of Leon, but an established country-rock band from Memphis whose career has slowly built upon the lean indie-punk beginnings into a fuller, more sophisticated sound. Their latest release, 'Women & Work' is this writer's first encounter with the band, so comparisons with earlier work won't abound, though knowledge of Memphis' rich musical heritage might prove a better starting point. 
First and foremost, it should be noted that the album's title isn't an innocent choice, and one shouldn't be surprised to encounter a majority of barroom-tinged narratives about courting girls and working-class virility. 'One My Way Downtown' and its short prelude 'Downtown' are, as such, a suitable introduction into their thematic universe. At first a charming plea for a girl, tinkered with a soft infusion of bittersweet, the track transforms into a rocking track as it veers towards something of a mischievous tone. The album's title track is a barroom bonanza of danceability that makes great use of both the keys and horns section (both fairly recent additions to the outfit). Similar rowdy conventions can be found to similar results on 'Like Lightning' further into the album.
On occasion, Lucero will drift whole-heartedly into the brand of soul that is the musical heart and soul of their hometown, particularly on tracks such as 'Who You Waiting On'. It might come off a little too brash and boyish for some, it is nonetheless laudable as a prime example of the band's commitment to variety. Moreover, the band don't hesitate to venture into slower tempo territory, clearest in the adjacent trio near the end of the album, to varying results. 'I Can't Stand Leaving You' and 'When I Was Young' both stand strong as bastions of bittersweetness guarded by towers of self-preservation, both don't stand out that much either. 'Sometimes', on the other hand, speaks of travel, places, roads, tracks and is built upon a country-slow spine, making for a thoroughly enjoyable ride. 
Final track, 'Go Easy' is a bit of a surprise. This might be the point where their origins emerge most within their own brand of country-rock. On the surface, it's a mid-tempo ballad of sorts, but Lucero make the most of the horns (a Memphis favourite) and a gospel choir. The contrast between Nichols' rustic vocals and the rousing, soft voices of the choir works very well and is ultimately a testament to the directions this band are willing to go outside of the raucous rock they call their comfort zone. 
If there was one real criticism to make, it might be that, for a band whose identity is so encased within traditions and styles from earlier periods, the tones of the instruments don't really make the most of the opportunity to explore vintage and retro textures. That being said, 'Women & Work' is lovely bit of American soul, a potent recall of trans-atlantic myths, and an entertaining exercise in variety. 
4/5
'Women & Work' by Lucero is out now on Loose Music.
Lucero links: Official Website|Facebook|Twitter
Words by James Berclaz-Lewis (@swissbearclaw)