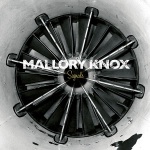 Considering their arguably short career, Cambridge quintet Mallory Knox has already reached an impressive status and this is only just the beginning. With 'Signals' ready for release there is a lot depending on this début full-length; bearing this in mind I am more than intrigued to dig in and see what the five-piece are made of.
The first few tracks on 'Signals' sets the standard high and there's hope that this will continue to define a strong and consistent record. 'Beggars' executes a highly infectious chorus, hosting impressive emotional filled vocals from frontman Mikey Chapman. Having all four remaining members on backing vocals works in the bands favour at the end of the track, with quieter crossover vocals adding some last minute texture to an already belter of a song.
Mallory Knox has already released 'Death Rattle' as a single off of the album, a track that has received great reviews; and so it should. It is everything that a rock song should be: raw, interactive and straight to the point; the quintet don't need fancy frills to impress, they are (or so it seems) naturals at producing simple but effective rock songs.
'1949' claims the award for standout track: a beautiful, slower masterpiece with stunning guitar work throughout. The song screams with emotion be that through diverse, raw vocals or soothing rhythms; regardless this is an exceptional track and this alone has won me over as a new found Mallory Knox fan. Later on in the record 'Bury Your Head' follows a similar pattern to that of '1949' and the quintet really have mastered these slower tracks, oozing with emotion and showing a softer but still very admirable side of the band; if not more so.
'Signals'continues with consistently strong rock tracks, including 'Misdemeanour' and finale 'Creeper' as Mallory Knox bring their début full-length to a close on a very powerful and promising note. With their careers depending on 'Signals' the band have absolutely nothing to worry about and in my opinion this may be their key to success. The quintet has really shone with this record and if I'm being picky the only thing I would ask is for more tracks like '1949.' Other than that, Mallory Knox I salute you.
4.5/5
'Signals' by Mallory Knox is out 21st January via A Wolf At Your Door Records
Mallory Knox links: Facebook|Twitter
Written by Hannah Gillicker (@HannahGillicker)