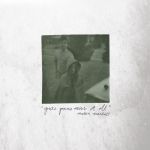 Modern Baseball's 'Sports' has been a mainstay on my iPod/Laptop/Phone/Turntable/Wherever-I-could-play-it for the last 12 months. I love that record in a way I've loved few others. Thus, the anticipation of the follow up was much so that after 'You're Gonna Miss It All' arrived in my inbox I didn't listen to it for two days. Then, having forced myself to hit play, I didn't listen to anything else for the next four.
It's a masterpiece. How's that for cutting to the chase? Somehow every track feels connected. Perhaps it's Modern Baseball's relatively unique pop/punk/emo/indie sound that allows this record to feel like one experience rather than twelve separate tracks. Perhaps it's that each track is so utterly on point that leaves me desperately clinging them as they pour out from the speakers and straight into my god damned soul.
On the majority of reviews I write I find myself picking a few songs and talking about them for a couple of sentences, maybe a paragraph. Picking out the best songs, maybe writing something about anything outstandingly poor. I can't do that to this album. The chorus of 'Broken Cash Machine' – not even the first time in that particular track I find myself astounded ("The sun explodes. We die. The world ends." – Incase you were wondering). The wonderful lyrics/guitar of 'Apartment', every riff in every song that has ran around in my head since I first heard it; I could write a book about this record and still not fully express my praise.
The first track that was released ahead of the full album, 'Your Graduation' is magnificent and fully encompasses 'You're Gonna Miss It All': enormous choruses, incredible musicianship, and a truly stunning lyrical ability combined with an implacable ear for melody. Something would be amiss were I not to mention 'Going to Bed Now.' The only time I gave a second thought to any track was the first time I heard the first 45 seconds of this one. A soft, walking verse with a story-telling feel had me thinking until it eased into the best chorus of the record and settled all doubts I feel ashamed for having had.
It's an issue with a relatively short review turnaround that there isn't time to allow an album of this caliber to settle, and I'm forced to write my raw reaction as I scramble around looking for still missing bits of my blown mind. Ask me to write again in six months and I'm sure I'd rate 'You're Gonna Miss It All' as highly as I do right now. I might just have found a less excitable way to phrase it. That said, I feel the same way about Modern Baseball right now as I did about The Get Up Kids the first time I heard 'Something To Write Home About' or The Wonder Years in my horrible first year of University when 'The Upsides' appeared on Spotify a month early and somehow fixed everything – and my god can I still go on about those albums.
All hail Modern Baseball!
5/5
'You're Gonna Miss It All' by Modern Baseball is out now on Run For Cover Records.
Modern Baseball links: Facebook|Twitter|Tumblr
Words by Thomas Knott (@thislifeishuge)