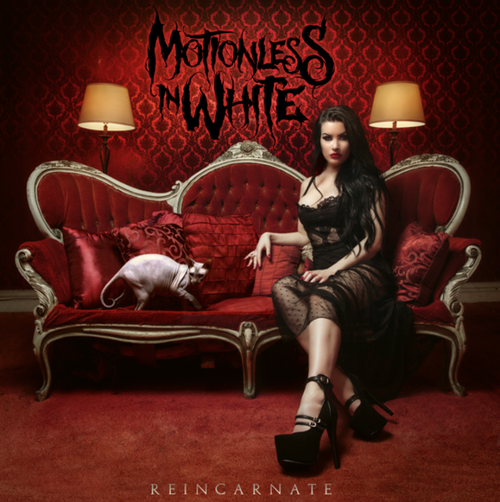 We're all guilty of making first impressions and judging books by their covers from time to time, so when you're faced with a band like Motionless In White who have a very prominent aura about them it's tempting to just brush them off if it isn't your cup of tea. The band are gearing up to release their follow up to 2012's 'Creatures' in the form of sophomore full-length 'Reincarnate'. We turn up the volume and prepare to embrace the quintet's brand of goth metalcore.
The haunting and aptly named 'Death March' opens the record, a dark number that blends metalcore chugs with eerie electronics. As much as this combination works, it's been done before and the addition of the Marilyn Manson style vocals doesn't do the band any massive favours. Title track 'Reincarnate', however, offers a glimmer of hope; with an undeniably catchy chorus that features clean vocals, this is a side of Motionless In White that we could get used to.
The big choruses return in the likes of 'Unstoppable' and 'Everybody Sells Cocaine' (we weren't sure on the title either). These sorts of tracks feature boisterous riffs and savage percussion with rockier, more accessible choruses and the quintet display a real musical ability; there just appears to be a lack of focus. Comparing them to the bullet-speed, brutally heavy 'Puppets 3 (The Grand Finale)' featuring Dani Filth there's a little too much variation on the record.
The same could be said as we continue through the record, as we're introduced to 'Generation Lost', again a really catchy number which loses its cool when rapped vocals appear almost as if from nowhere. We're all for twists and turns in a record to keep us on our toes, but 'Reincarnate' takes it to a whole new level on occasion. Similarly, 'Wasp''s instrumental introduction could be played in a dance club and people would be non-the-wiser that it was a track by a metalcore band. The track itself is electro-based; a dreamy, haunting number that brings the tempo of the record down to a catch-your-breath pace. Coming in at just over 7 minutes long, 'Wasp' creates a real ambience and shows another side of Motionless In White that we are totally in favour of.
One thing that the quintet are good at is writing a goddamn catchy chorus, whether it be shout-from-the-top-of-your-lungs gang vocals or rockier rhythms, Motionless In White save themselves with this talent. It's tough to fault the musical ability of the band, because there's no denying that they are all fantastic musicians. The one thing that 'Reincarnate' lacks is focus. We're all for being experimental when it comes to genres, but Motionless In White over-step the mark and deliver a slightly messy record. Nonetheless, if you love a brutal riff and a body-pulsing electro beat, 'Reincarnate' is the one for you.
3.5/5
'Reincarnate' by Motionless In White is out now on Fearless Records.
Motionless In White links: Facebook|Twitter
Words by Hannah Gillicker (@HannahGillicker)