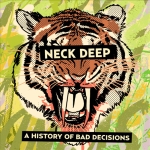 Neck Deep is a band with a lot of buzz about them at the moment despite the fact they are yet to deliver anything concrete; a scattering of live shows, a couple of tracks that are constantly compared to The Story So Far (a measure of the size of the boots this young band have to fill) and yet there is a feeling that they may well storm 2013 with their angry, stomping brand of pop-punk. 'A History of Bad Decisions' is the first step towards this, and it follows hot on the heels of 2012's 'Rain In July'.
The first thing to say about the EP as it kicks into life with 'Up In Smoke' is that the band, despite being from Wrexham in Wales, does have a remarkable resemblance to The Story So Far. The Americanized vocals, the pounding drumbeat and even the lyrical content definitely owe a debt of gratitude to the famous Californian band. The lyrics are from the heart and vitriolic without falling into the trap of being misogynistic (something The Story So Far has been accused of). 'Up In Smoke' is paired rather neatly with 'Tables Turned', the two songs working nicely together and showing off the full force of this promising young band.
The EP then closes all too soon with the acoustic 'Head To The Ground', a distinctly different tact and proof that Neck Deep may not be one trick ponies. It is an intriguing decision to include a track like this on such a short EP but it certainly whets the whistle for a full album as it displays a level of variation, another string in the band's bow.
Neck Deep draw on a myriad of pop-punk influences and there is a lot of promise in this EP. The band draws upon tropes of the genre (heartfelt lyrics about relationships and huge, heart-warming riffs being the most obvious) and yet they do little to add to the genre; granted, this is the band's first proper release and they are still finding their feet but these tracks sound like bonus tracks on 'Under Soil And Dirt'. This could be said to be the ultimate compliment or the ultimate insult to compare the tracks to one of the best pop-punk albums in recent memory; this is definitely a very strong EP but yet it seems so familiar. It is surely going to be divisive. Some people are going to love having a British version of The Story So Far and some are going to hate it. I personally tentatively love it but hope for further progression in the form of more music as soon as possible.
3.5/5
'A History of Bad Decisions' by Neck Deep is available now as a free download here and will be included on the vinyl release of 'Rain In July' which is set to be released through Pinky Swear Records.
Neck Deep links: Facebook|Twitter
Words by Tom White