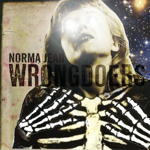 At the time of writing, the news has just emerged that after 10 years, The Chariot are to split. Their vocalist Josh Scogin was once the voice of Norma Jean, appearing on their first album 'Bless The Martyr And Kiss The Child' (plus the album they made under their previous name, Luti-Kriss), and arguably, they have never quite stepped out of his, and that album's, shadow since. Whether it be the shameless Botch-aping of 'O'God The Aftermath', the more melodic "mixed bags" of 'Redeemer' and 'The Anti-Mother', or the confused and disparate 'Meridional', Norma Jean has only garnered a personal reaction of "Yeah, this is okay, but I'd rather be listening to The Chariot". That is, until now.
In an already fantastic summer for metalcore, which has seen resurgent and emphatic records from the likes of Shai Hulud and Misery Signals, 'Wrongdoers' trumps them both and becomes Norma Jean's best record yet. The record was borne out of a tumultuous time for the Georgian quintet, and it shows in the material produced; this feels far more urgent and vital than anything since those early Scogin-helmed days, and there's a visceral ferocity that pulsates at the epicentre of this album that grabs the listener by the throat and refuses to let up throughout. Right out of the gates the album astonishes, latching itself onto the beholder's consciousness with the Isis-esque, tenebrous and brooding'Hive Minds'. Malevolent bass tones and thunderous drums create an ensemble onslaught under Cory Brandan's howl, which sounds the best it has in years, on this curtain opener that introduces the Norma Jean of 2013 in spectacular fashion.
However, don't be misled into thinking they've become a post-metal band – far from it. In fact, 'If You Got It At Five, You Got It At Fifty' is a tremendous release of energy; a barn-burner, nay, barn-detonator rampaging at full speed that channels Every Time I Die at their most volatile. This leads into the album's eponymous track – many criticise Brandan's clean vocal, but its true potential is exposed here, as his wounded roar gives a twisted kind of gravitas to lyrics themed around love between serial killers, and rounding off a triple-hit combo that is formidable, to say the least.
Fortunately, the merits of this record do not wane after an excellent start. Unlike previous records, where the quality level was not retained and the gulf in attributes was noticable, 'Wrongdoers' is consistently excellent, whether it be the looming and ominous 'Sword In Mouth, Fire In Eyes', the rabid, chaotic thrash of 'The Lash Whistled Like A Singing Wind' or the tremendous album highight of 'Triffids', each track is impactful and purposeful. There is little time or opportunity squandered here – Norma Jeanare a honed beast that hit the nail right on the head at every opportunity, and contrarily to their sixth album's title, it seems they can do no wrong.
The album closes proceedings just as breathtakingly as they began them; the monolithic and sprawling 'Funeral Singer'leads into the 14-minute parting note 'Sun Dies, Blood Moon', a moving and emotive piece that flows effortlessly from echoing distortion to the stirring strains of strings and simple acoustic guitar, eventually swelling into a sludge riff of gargantuan proportions – quite simply, jaw-dropping stuff. Bold, uncompromising and immensely satisfying,'Wrongdoers'is a tremendous accomplishment, the sound of a band finally hitting their creative zenith after so many near misses, and finally fulfilling their true potential. I truly hope that this will be the album that comes to define Norma Jean in the future, because after three years of tension and frustration leading to the brink of complete collapse, this is an absolute triumph.
4.5/5
'Wrongdoers' by Norma Jean is released 9th September on Razor & Tie Records.
Norma Jean links: Website|Facebook|Twitter
Words by Ollie Connors (@olliexcore)