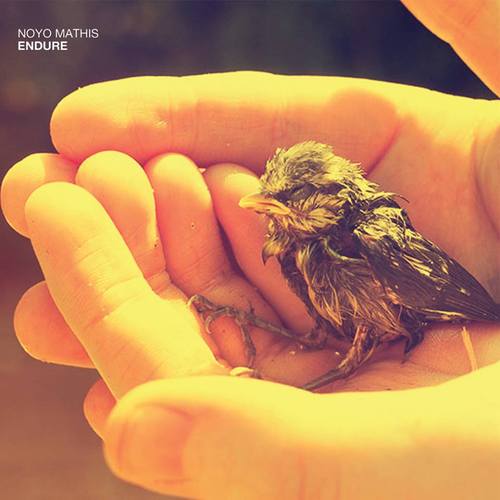 Following their formation in 2011, this is South Coast trio Noyo Mathis' third EP, and is certainly their strongest yet. The math-rockers, consisting of Savill siblings Jamie and Toby complimented by Daniel England, have here emerged from the shadow of their obvious luminaries and are claiming a sound all for their own; sure, you can still hear the line of influence from genre giants like Minus The Bear and borrowings from fellow Brits such as Tall Ships, Tellison and Gunning For Tamar within 'Endure', but this record is far more than just the sum of those parts. From this showing, it appears the Pomponians are prime to join the upper reaches of the UK math rock scene, members of which have been aforementioned.
From the very start of 'Torn In Two', it shows itself to be no ordinary beast, as drums and guitar sync in perfect harmony, the crisp and clear production job allowing Toby's vocal to shine through, and the louder chorus displaying their ability to emerge from intricate to abrasive with the greatest of ease. Whilst it does outstay its welcome a little at almost five minutes in length, the band were clearly setting out to make this an attention-grabber, and certainly succeed in that aim. While 'Faults' rather amusingly steals the blueprint of the pre-chorus/chorus of the aforementioned Tellison's 'Edith', it continues the record in fine fettle, Toby Savill continuing to show the sort of vocal turns that make his other guise in 'Blue Album'-covering band WZR such a joy to witness.
'I Used To Exist' is perhaps the highlight of this 5-track EP, with all parties portraying Noyo Mathis at their most urgent and emphatic best. This form is continued into the eponymous track; however this unfortunately peters out a little towards the end with an extended instrumental segment. The band's "stripped back" approach is appreciated due to the proliferation of bands in their scenes that seek to make all sorts of augmentations to their sound to stand out, but to hear Mathis let loose a little on their instruments would be refreshing on a record that relents from really pushing onto a higher plane. The finale of 'Daughters' does show an element of something incendiary towards the end, but the flames are unfortunately quelled; a frustrating feature of an otherwise admirable release.
'Endure' is nothing if not consistent, and features 5 very good songs that should hopefully garner them the wider audience their evolution in sound deserves. Whether they go onto develop their sound remains to be seen, but Noyo Mathis here show they're more than capable of moving up in prominence within math rock circles. Contradictorily to its title, this release is definitely to be enjoyed rather than to be 'Endure'-d.
4/5
'Endure' EP by Noyo Mathis is out now on Animal Defence, Shoetown Mafia and Field Records.
Noyo Mathis links: Facebook|Twitter|Bandcamp
Words by Ollie Connors (@olliexcore)