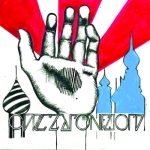 Hardcore outfit Oddczar don't play it safe: the band takes hardcore and gives it a shake, creating a refreshing sound; not completely throwing away the generics but twisting them to their own style. Their début album 'One Word' is short and sweet but what it lacks in quantity it makes up for in quality.
'Samsquanch' opens the record, a fairly short taster of what's to come: emotive roars, mid-paced but melodious rhythms and strong percussion. The infectious opening hooks of 'Bud Brothers' and title track 'One Word' lead into heavier tracks, particularly 'Bud Brothers' whose closing sections quickens in pace to then fade out, heading straight into the shortest track on the record 'Sidesex,' which boasts elongated screams in sections, reiterating the emotion within the vocals.
<a href="http://oddczar.bandcamp.com/album/one-word" data-mce-href="http://oddczar.bandcamp.com/album/one-word">One Word by oddczar</a>
Slowing down the record is 'Junaluska' with the opening calm rhythms opposing yet complimenting the roars, backed by slower, steadier percussion. Similarly, 'My Lips Are Seals' takes a melodic approach, focusing on soft guitar foreground by raw screams and the vocals in both tracks have an air of desperation about them, adding to the emotion created by this track and in fact the whole record.
For a début album this is a belter and Oddczar have pulled out the stops, taking a risk and not following every convention of the hardcore genre. Although short in length with some tracks only just beating the minute mark, sometimes feeling like you've only just got into the track before it's over, the record is a great listen and mirrors a passion and emotion that the band clearly have for their music. If you like Touché Amore and Pianos Become The Teeth, then Oddczar are the band for you.
4/5
'One Word' by Oddczar is out now via Bitter Melody/Self Aware.
Oddczar links: Website|Facebook|Bandcamp|Twitter
Words by Hannah Gillicker (@HannahGillicker)