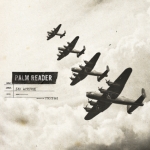 As British talent continues to soar within the music industry, it's safe to say that up and coming hardcore outfit Palm Reader are within that category. Their debut album 'Bad Weather', follow up to their self titled EP is going to cement their tracks in the hardcore scene, containing 10 killer tracks which produce a very solid record.
From beginning to end, Palm Reader execute their lairy hardcore, incorporating some calmer, atmospheric sections in between to create a record that boasts the band's creativity and musical ability.  Take the three part series 'Unwanted Guest (Grace Pt. 1)', 'Bitter Hostess (Grace Pt. 2)' and 'Noble Host (Grace Pt. 3)' which take the listener on a chilling journey within the record in between the heavier tracks.
'Smack Hound' is a personal favourite on the record, with Palm Reader kicking into full swing with fiercely rapid percussion, along with ferocious vocal structures and unruly riffs; slowing the pace later on in the track but still boasting the heavier elements and working the hardcore genre perfectly. Other similar tracks 'Echo' and 'Uncomfortably Lucid' reflect the aggressiveness of Palm Reader's music; executing the punchy riffs and killer percussion, with the harsh vocals adding to the character and adding some meaty tracks to the record.
Undeniably, Palm Reader are making a bold mark in the hardcore scene with this gem of a record; 'Bad Weather' twists and turns from rapid to calmer tracks and boasts a confidence in the five-piece that proves that they're going places. The band are rocketing in the right direction and 'Bad Weather' is a belter of a debut album, full of raw aggression; you'll definitely be hearing from Palm Reader a lot more because 2013 is going to be their year.       
4/5
'Bad Weather' by Palm Reader is out on the 6th May via Small Town Records.
Palm Reader links: Facebook|Twitter
Words by Hannah Gillicker (@HannahGillicker)