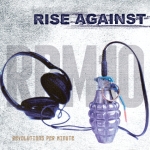 Fans of both melodic hardcore punk and special anniversary editions of albums will be in for a treat with the release of this special edition of Rise Against's seminal album 'Revolutions per Minute'.
Originally released way back in 2003, it was this album that brought the band to most people's attention. It was this album by Rise Against that also had the most to say; bearing in mind the then president of the USA was a Mr. George W. Bush and there was war going on. Something the fellas in Rise Against felt particularly strongly about. So it is only fair that ten years down the line this album is given the re-release treatment and comes with all original songs plus demos of near enough all of them.
From a reviewers point of view it's tough to review an album you are already so familiar with, personally it is one I grew up with and is definitely an album I'd give to someone if they needed an introduction to Rise Against. Listening back to this album now the way it pierces through is still there; the passion and the bite of the meaning behind those politically charged lyrics in many ways still holds firm. If you listen to the album version of a particular track and then listen to the demo version you really do get a sense of the passion behind the song. In particular in 'Blood-Red, White And Blue' when Tim McIlrath painfully sings "Would God bless the murder of the innocents? Would God bless a war based on pride? Would God bless a money-hungry government? Nooooo!"
Now that's in a no way a criticism of Tim's vocals, because his delivery is incredibly strong but it's the way he delivers those lines with such a bite that really drives the message home. To many people that sort of message is probably still relevant.
In fact the same can be said throughout all of the demos on this special edition; the passion can really be heard and when you consider how politically and socially charged those lyrics are it really does add to the overall experience.
Conversely this album doesn't add anything else, yes it has album demos but the songs don't sound too different to the finished product. A special edition should be just that; special. This doesn't feel too special and it would've been far better had there been some unheard songs, perhaps songs that never made the final track listing or even a B-side or an acoustic version. And let's be honest we all know what Tim McIlrath can do with an acoustic guitar.
The original album is still a timeless piece of modern politically charged melodic hardcore punk; it'll be a long time before we hear an album with that much to say again. This re-release sort of feels unfinished, a little rushed and it's a shame because 'Revolutions Per Minute' really is a fantastic album so why not give it the special treatment It rightfully deserves?
2.5/5
'RPM10' by Rise Against is out now on Fat Wreck Chords.
Rise Against links: Website|Facebook|Twitter
Words by Colin Henderson (@colinah87)