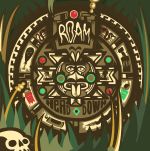 While there are plenty of pop-punk bands out there at the moment, I'm happy to say we could use a few more like Roam. Based in Eastbourne, Roam make no attempts to be a US-style pop punk tribute, instead choosing to sing in their Southern UK accent. The result is surprisingly refreshing, and as a result they sound a lot like London pop-punkers Home Advantage crossed with The Story So Far – which is in my books a good thing.
'Head Down' is a short and sweet five-track EP, which manages to effectively convey what the band are about: hooks, emotion and early-twenties angst. It's great fun to listen to and I get the impression they'd be a great live band.
Roam seem to favour rhyming or half-rhyming lyric, which when it works is deadly in its effectiveness – "This is a warning sign for everything you left behind" on 'Sticker Slap' for example,  and cringe worthy when it fails, i.e "I worry but I'm still hungry" on 'Nothing in Return'. Despite the mixed results, I really like the lyrics; they're relatable without being tired or overused.
The entire EP can be summed up by the line on closer 'Headrush', "I feel that everyone my age is twice as far into their lives", 'Head Down' is full of fears about failure and being left behind. There's no bitchy break up songs here, just heartfelt concerns about growing up.
I guess my own criticism of Roam is that they aren't particularly original, every song has an easily identifiable point of reference or a band it sounds similar too. Opener 'You Never Said' starts with a heavy, catchy riff similar to the stuff seen on The Story So Far's 'What You Don't See' while the 100 seconds of 'Sticker Slap' echoes punchier The Wonder Years efforts like 'Dynamite Shovel'.  It's still listenable, and despite these parallels to other bands, 'Head Down' isn't the slightest bit stale.
If you don't like pop punk you won't like this, but for those into the genre there's plenty to sink your teeth into with this release.
4/5
'Head Down' by Roam is out now on Pinky Swear Records.
Roam links: Facebook|Bandcamp|Twitter
Words by Jay Sullivan