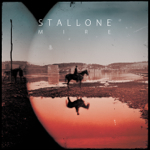 The harsh and abrasive chaos from the likes of The Dillinger Escape Plan, Converge and The Chariot are just 'harsh and abrasive chaos' to some ears. The latter usage of that phrase was those who don't get it and that 'it sounds like a lot of noise', whereas the former usage was for those who see the phrase as a compliment; music is music, no matter how it comes across.
The technical ability, aggression and intensity is all thrown into a grinder and then carefully placed back together in a jigsaw like fashion; 'Mire' is the album that the previous metaphor belongs to and Stallone seem to know what they're doing. My first listen didn't quite get it, but sitting down and actually concentrating it all makes much more sense. It's this need for a deeper level of concentration that still makes me think to this day that technical music is only appreciated by the more intelligent and creative minds (no offence to everyone else in this pretty little world). I think it's because a creative mind is able to process the music for what it is, and not just "noise", as well as appreciate the technicalities at play.
Lunging back and forth between the heavy hitting crashes and sparse snare pounding to the quick rolls to accompany the trills on guitar, but sometimes bringing it down to being oh so quiet (where Bjork) would be proud, only to unravel and descend once again. The fluidity between songs creates a seamless exploration, allowing for quite a fully immersive sound. Ok, so at times I haven't realised that I'm on a new song, but it's not like you're expected to sing along to the lyrics; it's all about the appreciation for what it is.
Oh, and riffs, of course. 'Mire' is full of riffs and it's a very 'blink and you'll miss it' affair, although of course, any doctor will tell you that you can't blink with your ears. Well, not yet anyway. You understand how the phrase is applied here and it more so conveys my previous point of a deeper level of concentration to appreciate each section of music as it darts in and out of your ears before you've fully realised what just happened.
The kick in the face that is 'Mire' will kick many faces across hardcore and tech metal, and will certainly be able to stand it's ground in both scenes. Here's hoping there's plenty of people who can appreciate this sold step in the right direction. If their next move is some outrageous, unexpected sequences (and I'm thinking of plenty of examples on 'Miss Machine' by TDEP) then these kicks are in the right direction. Bring on the chaos.
3.5/5
'Mire' by Stallone is out on the 7th October on Tangled Talk.
Stallone links: Website|Facebook|Twitter|Tumblr
Words by Mikey Brown (@MikeyMiracle)