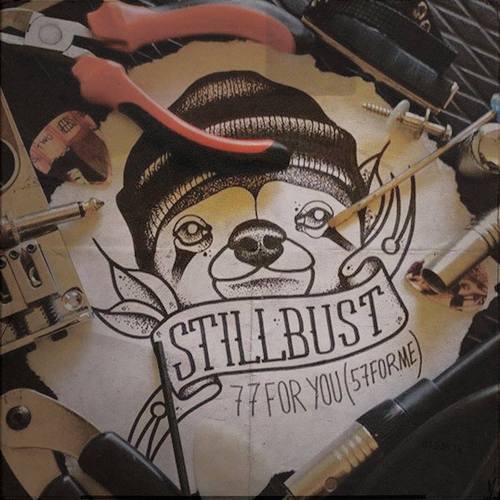 There's something about '77 for You (55 for Me)' that makes me think Still Bust are trying too hard. It's the on-trend sloth on the cover of the EP, the quirky press release that's just a list of different scrapes the band have got into and the liberal use of brackets (every song has brackets – it's infectious), that makes it seem that Still Bust are desperate to stand out from the crowd. 
It's a shame really, as all this peacocking obscures the heart of what makes '77 for You (55 for Me)' a good EP, filled with original guitar work, interesting time signatures and unexpected breakdowns – all layered with gravelly vocals that would seem more at home on a punk album. It's a challenge to listen to, but in a rewarding way, with each play uncovering a new element.
77 for you (57 for me) by Matt Records
 It's not instantly accessible, taking a few repeat listens to really get drawn into the lyrics but once submerged '77 for You (55 for Me)' is addictive and unexpected. From the false finish in 'Twenty Foot (Broken Foot)', to the way 'I've Never Been More Happy to Have a Hypo (However This Could Mean I Have Irreparable Knee Damage)' flows into the final track, Still Bust are constantly challenging expectations.  The stripped down section of six-minute opus 'Twenty Foot (Broken Foot)' is the absolute highlight of the EP, enjoyable in the way it lures the listener to expect the end of the track, only to crash into a further three minutes of heavy, mind-blowing noise.
Overall, Still Bust's EP is a short, sharp shock, different from anything currently out there. It's worth getting past the frills and pretentiousness of Still Bust's presentation, as underneath it all there's a great band to be found.
3.5/5
'77 for You (55 for Me)' EP by Still Bust is out now on Matt Records.
Still Bust links: Facebook|Twitter|Bandcamp
Words by Jay Sullivan