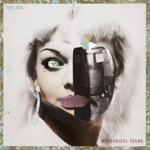 Having streamlined their cumbersome moniker of The James Cleaver Quintet to orphan initialism The JCQ, the East Sussex five-piece here follow up début album 'That Was Then, This Is Now'. The first record, though packing a hefty dose of gargantuan riffs, felt a little messy and unfocused at times, and did not show the true potential they possessed – the title used for that record is far more apt for 'Mechanical Young', as The JCQ of 2013 is a far more potent beast than ever before.
With
'Mechanical Young'
, the band have started again from a blank slate and reinvented what 
The JCQ
 are all about – whereas before they were a blistering force of unrelenting, brutish energy, this is packed to the gills with seductive melodies, vastly improved musicianship & songwriting and, most importantly of all, tons of groove. Elements remain of the schizophrenic and frantic chaos of before, but their efforts have been honed and concentrated, and the result is exhilarating. Recorded in Sweden with the production team behind
'The Shape Of Punk To Come'
,
'Mechanical Young'
sounds like the best record Faith No More never made, combined with components of Head Automatica and Portugal. The Man.
This change in direction suits vocalist Jack Saunders down to the ground, as his croon becomes the star of the show. His dexterous vocal is pushed to its full extent in opener 'Ghosts Diffuse', soaring atop the song's stratospheric ambition. The band have experienced a change in personnel, exchanging their bassist for James Triponel (formerly of Darkshaft), and it's a move that's proved beneficial, as his funky lilts provide the low-end for 'Love's No Good' playful nature. Two-parter 'No Kind Of Man', broken up by interlude 'III', showcases just how much they've come along as a band; the songs here feel full-bodied rather than rushed, to their benefit.
The JCQ have built up a steady buzz around them in their 7-year lifespan, their riotous live presence playing a considerable part of that, and this redefinition will, if there's any justice, see them explode. While their first record impressed, this is jaw-dropping work, and sees them come into their own in emphatic style, lightyears ahead of some of their peers. A few years ago, we had an explosion of exciting hardcore coming from Brighton contemporaneously (TGOAT, Johnny Truant, Architects), but with albums of this calibre coming from The JCQ and Let's Talk Daggers, it may now be Eastbourne's time to shine.
4.5/5
'Mechanical Young' by The JCQ is out now on Hassle Records.
The JCQ links: Facebook|Twitter
Words by Ollie Connors (@olliexcore)