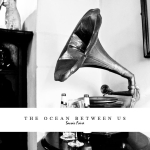 The Ocean Between Us have kept their fans in great suspense but the wait is finally over with their debut album 'Savoir Faire' ready for people to get their hands on; it was definitely worth the wait.
From opener 'In Sickness And Wealth' right through to closer 'God Is An Atheist,' The Ocean Between Us consistently deliver their trademark post-metalcore sound to a killer standard. With fierce vocals, chugged riffs and rapid percussion, the quintet mixes the perfect combination of elements to produce some really solid material.
Calming the record down and creating ambience is instrumental 'Now Here,' leading into 'In Reality' and then 'Remember Yourself.' This section of the record takes a completely different turn but one that's just as successful as its precedent. There's an emotion present in the vocals, along with more chilling melodies and powerful bass.
The intricacy of 'What Do You Stand For' is impeccable and features haunting vocals to produce a very dark sound. The guitar work throughout the track is outstanding and is what makes it so captivating and keeps the listener on their toes. A section of emotive screaming over acoustic guitar in closing track 'God Is An Atheist' creates an even different yet chilling sound, reflecting the diverse talent and musical ability that the quintet boasts.
'Savoir Faire' is a fantastically written record and The Ocean Between Us have proven that the eager anticipation was certainly worth it. The intricacy and character in each track is at a consistently high standard and each track is as strong as the next. Post-metalcore fans will absolutely love this record and The Ocean Between Us deserve copious amounts of praise for 'Savoir Faire.'
So much character in the tracks.
4.5/5
'Savoir Faire' by The Ocean Between Us is out now via A Wolf at Your Door Records.
The Ocean Between Us links: Facebook|Twitter|Tumblr
Words by Hannah Gillicker (@HannahGillicker)