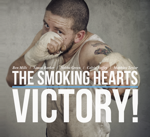 So what happens when you mix some hardcore screams, rock and roll riffs and solos and some melodic vocals, simple you've got The Smoking Hearts. A band that plays some straight forward punk rock and hardcore music that has the visceral vocals that cut straight to the point.
Starting off strong with the short one minute song 'Off With Your Head' the fast melodic sounding guitar riffs come through fast with some rough sounding screams. It's a quick short blast of fast riffs and drums to show you what to expect from this album.
Tracks like 'Benedict', 'Seatbelts' and 'Sinking Ships' all showcase the punk mixed with rock and roll stylings as the punk fast riffs come in fast but allow the rockier edge to shine through as well. With some melodic vocals mixing in to balance out the rough screams it gives the songs another edge, finishing off with some catchy solos they all sound great.
'Stomper' is a song that will stay with you for a while as the intro riff is simple yet memorable as well. With a simple guitar verse and some rock and roll riffs it finishes in true rock style with a massive squeely guitar solo. A song which really brings the catchy rock and roll vibe is 'The Natural Disasters' as it allows the lead guitar lick to come through, with a breakdown near the end it could easily insight many a pit in a live setting.
The record powers along well as the punk and hardcore riffs come thick and fast especially on the songs 'Blue Nun', 'Apefight' and 'Crimes of Passion'. All bringing the punk rock riffs, rough sounding vocals with some added melodic and gang vocals it's a sound the band can call their own. The penultimate song on the record 'Smoke and Mirrors, Baby' is another fast one just like the start of the album, guitar riffs and drums come in really fast and power the song through really well. The rough screaming vocals backed up by some gang vocals sound great with yet another short guitar solo it goes full spead again and finishes well.
Last track on the album is 'Destroy' and is quite an apt song to finish on as the riffs come in heavy, frontman Ben Mills accompanied by gang vocals all sing "This is time to destroy / This is time to destroy" over and over and of course the song finishes off with another impressive guitar solo.
This album is a clever mix of two music genres, those who like some rocking rock and roll guitar riffs and those who like their punk and hardcore with some fast riffs and screaming vocals. The band manages to keep both of these elements well balanced on the album and it's not too overpowering or strange to hear.
With this the song structure is something you get used to and does become a little bit too predictable but we can let them off as the songs truly do rock. Some tracks at times do sound like rare tracks you would hear left over from Gallows first album 'Orchestra of Wolves' but surely that's a good thing. The band has by all means made a great album and is a resounding "Victory!" for all involved.
3.5/5
'Victory!' by The Smoking Hearts is out now on Bomber Music.
The Smoking Hearts links: Website|Facebook|Twitter
Words by Aaron Wilson (@soundslikeajw)