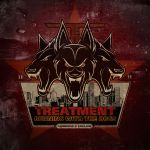 What the world needs, is more music like this. The Treatment here have offered up a slice of classic heavy rock with their second album, and latest offering, 'Running With The Dogs'. Get your leather jackets and air guitars ready, we're going in!
'I Bleed Rock + Roll' leads the album and you're instantly treated to a band that sound like a cross between AC/DC and 'Appetite for Destruction' era Guns 'N' Roses and a singer that sounds like the vocal love child of Myles Kennedy, Bon Scott and Gary Cherone (Extreme). Essentially Airborne…but much, MUCH better. Its fierce, balls out classic rock. 'Drop Like a Stone' follows and keeps the pace. Chunky guitar riffs, forced mid-high pitch lyrics and lashings of attitude and confidence. Oh, and a bit of Van Halen-esque tapping, just for good measure. If there's one thing that I love its hearing a bands influences in the playing, and these guys have one of them out on display with 'Get The Party On', a riff heavy track that drips of AC/DC from start to finish.
Title track 'Running with the Dogs' follows, and its more of the same, with Aussie rock riffs melded with modern rock chops, combined with a more modern rock vocal style. It's probably worth mentioning now that the boys are from Cambridge, UK. Up next comes a curveball with 'Intro/ The Outlaw' and its spaghetti western combination of acoustic guitar, harmonica and church bells intro before assaulting you with a guitar riff Nuno would be proud of. And this is what I mean about flaunting your influences, with this track taking a nod from many an Extreme track and bringing it up to date and throwing some extras into the mix. Now, whilst I do love a good influence, too much of a good thing is a bad thing. 'Emergency' leads in with another Aussie riff for the verse which is getting a little repetitive unless you're a die hard Angus fan. However, a classic 80's power rock chorus that would give The Darkness a run for their money freshens the format up a little bit.
Now, for the second half of the album, i'm just going to pick out a few standout tracks. I've said "AC/DC" and "Aussie Rock" too many times and if that's what you're into, then you'll love 'She's Too much', 'Don't Look Down', 'World On Fire', 'What is there to Say?' and 'Don't Get Mad Get Even', I'm just aware that both myself and the album are repeating themselves slightly. That list of tracks do have some variation in them, with 'She's Too Much' taking a bluesy lead and 'Don't Look Down' sounding like something from Slash and Myles Kennedy's latest collaboration.
So, that said and done, a track like 'Cloud Across the Sun' comes and refreshes your ears and makes you realise this band has more than one dimension. Clean and acoustic guitar led with sweeping harmonised backing vocals take you back to the '80's with power ballads and long hair. It's an underused tactic in modern music and its great to hear because of that. Not everything on a rock and roll album has to be dirty guitars and double bass drum pedals. And to stress that point (I hope) the lads have done it not once, but twice with 'Unchain My World' being a full on acoustic treat the likes of 'More Than Words' and 'To Be With You', complete with percussion. Double vocals, harmony guitar solos, smooth bass, and what I can only hope was candles, frilled shirts and a perm during the recording session. Yes, its a bit cheesy and yes its a departure from the rest of the album, however it works, and it shows that the band are more than just machine gun riffers. There's a lot of heritage to the influences and they've picked the best parts to showcase. Unfortunately, some have shone through brighter than others.
Without a doubt this is one of my favourite albums released so far this year. Its full of unashamed guitar riffs with vocal harmonies to match and plenty of attitude. There's swagger and confidence, its just a shame that the overbearing sound of the album is that of an Aussie tribute. But don't take that as a dismissal. The Treatment have provided here an album that is solid from start to finish with great production and class writing skills. They understand exactly what they are trying to do and they went out and did it, and no doubt they're doing it on the road right now, tearing the roof off from venue to venue. There are still some dates left, so go check them out!
4/5
'Running With The Dogs' by The Treatment is out now on Spinefarm Records.
The Treatment links: Facebook|Twitter
Words by Luke Crook (@paisleysoul)