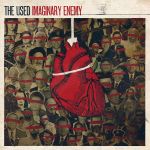 As a band, The Used have never exactly come across as pacifist in nature, or as afraid to speak their minds, however bold or polarising their viewpoint. Frontman Bert in particular hasn't shied away from being open and honest when talking about issues ranging from his own issues with drugs, to his views on his country and how it is run. Now the Utah native Emo superstars are back with their most outspoken and politically mobilising record yet, entitled 'Imaginary Enemy'.
After a string of ok but far from earth shatteringly great albums, 'Imaginary Enemy' is The Used as about as essential and relevant than they have been in quite some time. It's clear from the outset that in this record the band are shooting for their 'American Idiot' moment. While 'IE' is unlikely to draw anywhere near the same level as critical or commercial success, in their own way the band have achieved this.
Certainly the conviction and feeling that resonates from every track is completely genuine, unlike the forced and hollow gimmicked politics of other records with similar aims. More importantly, the knowledge at the core of the lyrical subject matter appears to be strong, and is reflected in the depth and variety of issues covered.
The Used kick off the album in characteristically full blooded and frenetic fashion; 'Revolution' making an unapologetic and powerful call to arms for the fight for the righting of political and social wrongs. The song does exactly what all album openers should, nailing the colours firmly to the mast for the mood and tone of what is to come.
Any fears that the band may have opted to favour standing on their soapbox over song quality are quickly allayed. Both 'Cry' and 'El-Oh-Vee-Ee' coming loaded with insanely infectious poppy chorus hooks. Good luck getting the melody from 'Cry' in particular to leave your brain after the first listen.
There is a distinctly militant air about much of 'IE', most noticeably in the marching band drums intro of 'A Song To Stifle Imperial Progression', as well as in the song's scathing repeated refrain "No way, no way USA" and it's multiple digs at the CIA, the nation's social policy and the war on terror. The ideological grandstanding continues in a rousing rebuttal of the disposable nature of the current I-generation in 'Generation Throwaway'. "Everything is fine we're not afraid of glory, we're not generation throwaway," asserts McCracken in defence of the technologically spoiled disaffected youth.
The title track enters in slightly unexpected fashion, jazz style bass and drum parts playing off of jaunty strummed guitar chords to create a very cool punked-up swing feel, before giving way to another fist pumping chorus. This time McCracken plaintively appealing for more unity in world, "They would rather see us all alone, we are much less different then we know," he reminds us in an impassioned stand for liberty.
The album glides effortlessly to a close with three of the mid-tempo style songs that The Used have always done so well; clean guitars and softly delivered vocals providing the basis of 'Kenna Song', 'Force Without Violence' and 'Overdose'.
'Imaginary Enemy' is by far the most complete sounding record The Used have made to date, ticking so many of the boxes that make a great record, and with the potential (if it receives the right response from fans and critics) to be seen as a career defining release.
5/5
'Imaginary Enemy' by The Used is out now on Hopeless Records.
The Used links: Website|Facebook|Twitter
Words by Dane Wright (@MrDaneWright)