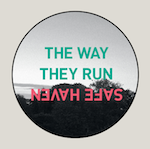 It's always great to find a nice little surprise in your inbox; this nice little surprise comes in the form of the new 7" from The Way They Run. This Swedish quintet play 90s-influenced punk rock, punk rock that features an infectious dose of melody, heart-on-sleeve songwriting and bite to hold the listener by the ears.
Lyrically, the band is plagued and focused on themes that most punk bands strive on. Love, politics, a sense of worth, and societal issues; such themes provide something relatable to take in and process. The importance of them is held up by the delivery of the music that carries them. Judging from all four tracks, one can be rest assured that the delivery is not contrived, but instead is taken with such heart on sleeve honesty and consistency.
<a href="http://thewaytheyrun.bandcamp.com/album/safe-haven" data-mce-href="http://thewaytheyrun.bandcamp.com/album/safe-haven">Safe Haven by The Way They Run</a>
As previously stated, the band play 90- influenced punk rock in the same vein as Samiam and Texas Is the Reason. Dynamically, what is laid out is infectious melodic hooks with a heart that is beating in a gruff and grit-laden manner. The highlight of this belongs to 'For Us Drifters'; this sees a track revelling in fast punk pace accompanied by a delicious flow of melody.
The Way They Run have delivered a fine taste for newcomers to the band. They combine punk rock honesty, melody and bite in a soup stirring in consistent jams. If there are is a complaint to be had then that would be a missing ingredient this reviewer can't quite put his finger on. 'Safe Haven'is crisp and well-honed in sound, but it just lacks that extra push to make it something more than just good. Perhaps it's down to the fact that there are only four songs, so there is a sense that there is more to the band that meets the ears. On the other hand, the quintet has a new full length in the making so perhaps this reviewer will get a better overall feel of them. For now, this critic has been turned to keep an eye on them thanks to this delightful EP.
3.5/5
'Safe Haven' by The Way They Run is released 18th October on Blackstar Foundation.
The Way They Run links: Facebook|Tumblr
Words by Aaron Lohan (@ooran_loohan)