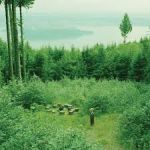 The past can be a really tough thing to shake, it requires something so overwhelmingly important in the present to overwrite what has previously happened. This is true in all areas of life, but this isn't a therapy session, or a quote to be photoshopped onto a scenic photo for Tumblr; it is also true in the music world. New outfit, Then Thickens, who comprise former members of Rolo Tomassi and KONG, are a band then who are attempting to re-direct their respective futures, and the future is, of course, always uncertain.
Firstly, you'll notice that none of the previous two bands' influence has crept into any element of Then Thickens, they've wiped the slate clean and headed into a different world altogether, that of atmospheric indie-rock. From the first few seconds of the band's first single, and possibly the records strongest song, 'Tiny Legs', I had already compared them to The Vaccines, a less catchy White Lies and even found a touch of Joy Division in there. All of which probably sound like great comparisons (not the less catchy bit), but i guess it just doesn't cut it anymore to have simply sampled from your predecessors.
There are some stand out moments in the tracks 'Matthew' and the aforementioned single, 'Tiny Legs', where the vocal lines are catchy and aurally pleasing enough to generate maybe a head nod, but not much more. The guitars again, at points, are sheer beauty, but amongst a sea of simple, down stroked, reverb lines they have few opportunities to really shine. Earlier on into the record I thought that Then Thickens could perhaps be the English's answer to Arcade Fire, but I think that comparison only came from the interplay between the male and female vocals and lost its value when not a great deal more actually happened.
There's nothing particularly wrong with 'Death Cap At Anglezarke', it's just that it comes of as incredibly linear, it feels like every track is waiting to burst into life but never really does. I hate to write it, but it's just all a bit boring really and as the record drew to its close on 'Wasp In Your Mouth', this lack of excitement had sort of brought me down, which is exactly the opposite effect I'd want a record that is already as highly acclaimed as this one is to have.
The band may have put the past behind them and gained the backing of several other music outlets in doing so, and, as a result, their PR pack might be so quote heavy it could weigh down even a hipsters lingo, but, for me, the future for Then Thickens still indefinitely remains uncertain.
1/5
'Death Cap At Anglezarke' by Then Thickens is released on 5th May on Hatch Records.
Then Thickens links: Facebook|Twitter
Words by Shaun Cole