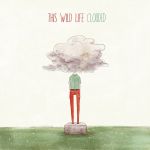 Stirring, emotionally charged and delicately vulnerable folk-pop may not be the sort of release you would immediately associate with legendary punk label Epitaph. But this is exactly what you get in the form of 'Clouded', the debut offering from duo Kevin Jordan and Anthony Del Grosso, better known as This Wild Life.
Between them the duo creates a sound which is effortlessly moving and sonically beautiful. The melodies on offer here are nothing short of flawless, and although simple in their construction, will occupy the listener's thoughts and consciousness for days on end. Add in vocal harmonies between which are nothing short of hauntingly flawless and you can probably tell that the results are something pretty memorable indeed.
Acoustic acts of this ilk, with such a keen ear for melody and harmony, can sometimes sound a little false and contrived in their delivery and lyrical approach. Thankfully this is absolutely not the case with This Wild Life. Every note of every song resonates with authenticity, grit and a life wrought soulfulness, something which should make Jordan and Del Grosso hugely appealing to fans of acts like Dashboard Confessional, Koji and Into It Over It.
Musically, punchy and purposeful acoustic chord progressions keep the sound direct and purposeful and prevent the band ever sounding to mawkish. While light, delicate lead lines bridge the gap between the rhythm guitar and the soaring vocals perfectly.
There's an instantly relatable feel to the lyrical subject matter, with Jordan mostly sticking to the tried and tested formula of reflecting on relationships past, treading the line of sentimentality in just the right fashion, never afraid to be frank and unflinchingly honest in his observations and self-evaluation.
It really is near impossible to fault This Wild Life, or 'Clouded', in any way. The likelihood of anyone turning out as complete or engaging an acoustic record in the near future seems incredibly slim. For anyone still to be convinced, check out the singles 'History' and 'Roots and Branches', both tracks showcase everything that makes This Wild Life such a joy, you'll soon be won over.
5/5
'Clouded' by This Wild Life is out on the 26th of May on Epitaph.
This Wild Life links: Website|Facebook|Twitter|Tumblr
Words by Dane Wright (@MrDaneWright)