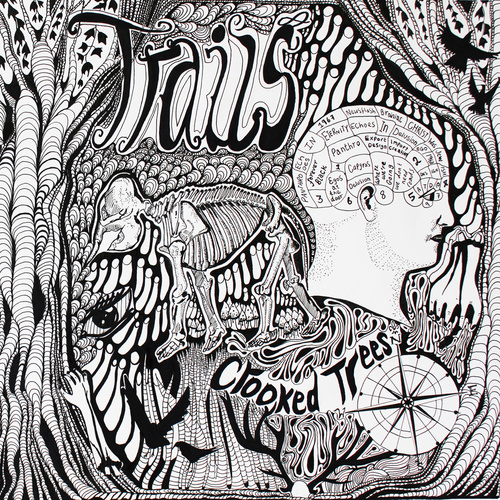 Compared to the noughties there's no doubt that the Great British Rock Band has suffered something of a decline. Take a look at any big festival line-up now as compared to ten years ago and the difference in the amount of home grown household names is quite staggering. So much so that decidedly average bands like Royal Blood are considered the cream of our crop.
Trails have emerged from Guildford, taken the sound of that generation of great bands such as Reuben, Hundred Reasons and Hell Is For Heroes and given them a modern twist and a slightly harder edge. They really have the feel of a beloved alt-rock band the likes of which generated cult followings in a way that just doesn't happen as much these days, and that's definitely a good thing.
Trails really wear their influences on their sleeve, and in some instances draw maybe a little too strongly from them. The chanted beginning to 'Forever Black' strongly hints that the band like Biffy Clyro quite a lot, a notion which is reinforced by 'Panthro' which sound unerringly close to the track 'Diary of Always' from Biffy's second full length.  Elsewhere, 'Capgras Delusion' throws a big nod in the direction of Glassjaw.
As you listen through 'Crooked Trees' you begin to realise that although it's bursting with ideas, energy and creativity, it also struggles to consistently distill all of this into well-structured and memorable tracks. Whilst some efforts like the wonderfully intense 'Echoes in Eternity' and the roof-raising '1967' really leap out at you, others are initially impressive and then seem to lose their way and start to meander like the rather impotent 'Newflash Genius: Christ was Jewish!'
This album was funded by fans through a kickstarter project which is absolutely fantastic and a massive credit to both the band for having the drive and conviction to get themselves off the ground using grass roots support, and those who donated for being so committed. To be honest it's really wonderful to hear a very big, very British sounding heavy band.
Not everything about this album works but what definitely comes through is Trails' passion for the golden generation of the last decade, and the immense talent they have – some albeit as untapped potential.
4/5
'Crooked Trees' by Trails is out now.
Trails links: Facebook|Twitter|Bandcamp
Words by Alex Phelan (@listen_to_alex)