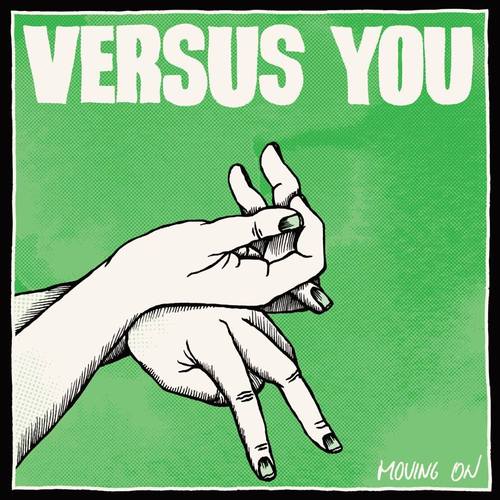 As soon as the opening moments of Verses You's fourth album 'Moving On' kicks in, it immediately brings to mind the bratty sun-soaked bay area punk scene that produced such luminary acts as Green Day among many others. It seems, however, that sounds can be deceptive, as Versus You are now the one thing that this writer can name to have originated in the tiny western European nation of Luxembourg.
How a punk band quite this catchy, or composed have, not broken out of their homeland to enjoy recognition here in the UK, or further abroad, is a bit of a mystery. One thing is for certain though, the band's attitude, substance and hook laden classic punk sound makes for a perfect soundtrack for the glorious heatwave that we are currently enjoying. Every track on offer here may not be particularly long or complex, but every single one grabs your inner punk kid firmly by the scruff of the neck and makes it want to bounce up and down like a crazy person for every distortion drenched euphoric moment.
The frenetic if oddly named 'If The Camels Die, We Die' provides an early powerchord driven highlight as is the super bouncy 'A Way With Words'. 'On The Town' joyfully hammers home the importance of however dull your hometown may be to still live life to the full and enjoy every available moment. 'Be Better Than Me' provides a rare reflective moment, eulogising on using loss to inspire yourself to be the best person you can be, before 'Skinny and Distracted' takes a punchy if conflicted sideswipe at modern values of attractiveness and body image.
It's a sign of a gifted song writer when they can take a lyrical subject matter as grim as a HIV sufferer and still make the resulting track sound infectious, but that is exactly what happens on '30 Pills'. Finally closer 'You Are My Friend' sees the band slow things down a notch or two with a good natured mid tempo singalong number brimming with bonhomie.
You know you've listened to a fun album when it leaves you with a grin a mile wide and that is exactly the case here. Every chorus is vibrant and begging to have a sea of arms waving and punching the air in time to them. Versus You show that we are often far too guilty of taking note of the potent rock talents on offer from a continental neighbours in favour of higher profile acts from the US.
3.5/5
'Moving On' by Versus You is out now on Bomber Music.
Versus You links: Website|Facebook|Twitter
Words by Dane Wright (@MrDaneWright)